Black Forest Cookies
We've been going through a lot of craisins around here. I'm in love with everything cranberry and they are a nice addition to my oatmeal in the morning. They are also wonderful to bake with. I love making the recipe below with both regular craisins and the cherry flavored ones as suggested. Of course they would also be delicious with dried cherries. If you use those, I would recommend roughly chopping them before adding them to the cookie dough.
Black Forest Cookie Recipe
1 (11.5oz) milk chocolate morsels, divided
¾ cup flour
½ cup brown sugar
¼ tsp. Baking powder
¼ cup butter, softened
1 (6oz) package craisins (cherry flavored) or dried cherries
2 eggs
1 tsp. Vanilla
1 cup pecans or walnuts, coarsely chopped
Preheat oven to 350o F. Lightly grease baking sheets. Pour ¾ cup chocolate morsels into large microwave safe bowl. Set remaining morsels aside. Microwave morsels on high for two minutes. Stir until chocolate is smooth. Stir in brown sugar, butter, eggs and vanilla. Add flour and baking powder, mixing until thoroughly combined. Stir in remaining morsels, cherry-flavored craisins and pecans. Drop by tablespoonfuls onto cookie sheet. Bake for 12 minutes or until cookies are puffed and set to the touch. Bake 14 minutes for firmer cookies. Cool on cookie sheets for 2 minutes. Transfer to a wire rack and cool completely.
Makes 2-2 ½ dozen
Submitted by HBHW reader Jan D.
Looking for some new cookie recipes to add to your collection? How about this frugal peanut butter cookie?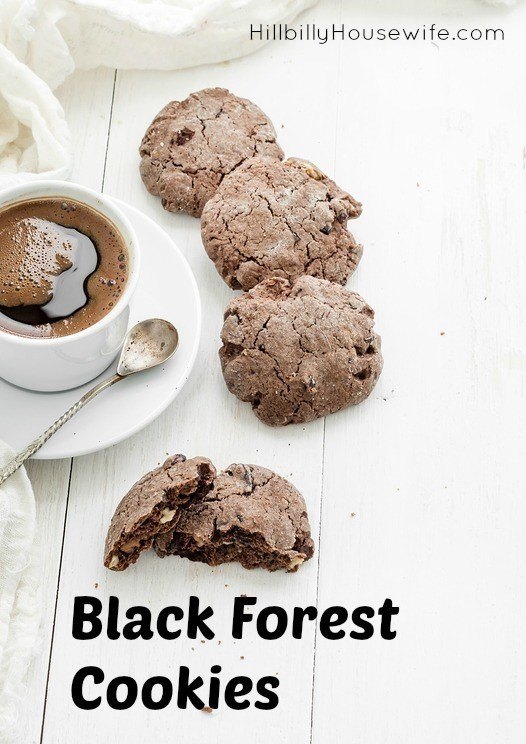 Disclosure: Some of the links below are affilate links, meaning, at no additional cost to you, I will earn a commission if you click through and make a purchase.