Bill's Classic North Carolina Style BBQ Sauce
I've often said that if the soldiers had tasted some of the recipes here on the Hillbilly Housewife, the only civil war would have been over seconds at meal time.
Here's a North Carolina style barbecue sauce that is easy to make and will keep them coming back for more.
Bill's Barbecue Sauce Recipe
4 cups cider vinegar
1 cup whiskey (optional-Old Grandad works well in this recipe if you do include it)
1 cup brown sugar
1 1/3 cup ketchup (Heinz is best)
1/4 cup butter or margarine
2 Tblsp Tabasco or generic
2 Tblsp lemon juice
2 Tblsp Worcestershire sauce
2 tsp crushed red pepper flakes
2 tsp mustard powder
1 tsp onion powder
1 tsp salt
1 tsp black pepper
1 tsp corn starch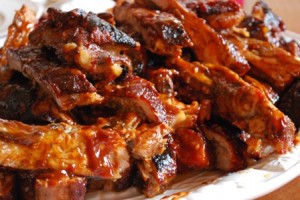 Bring it slowly to a boil, stirring occasionally. Cook longer if thicker sauce is what you prefer. Allow to cool and refrigerate. Will keep for months, if you have any left, that is.
Serving size: 1 large bottle
Great on ribs or pulled pork: use 12oz of peach or apple wood in your charcoal to smoke the meat…makes one heavenly, frugal, bbq meal!
This recipe was submitted by reader William Wilson. Thanks for sharing such a great recipe Bill.
Disclosure: Some of the links below are affilate links, meaning, at no additional cost to you, I will earn a commission if you click through and make a purchase.