Beef Bean Enchilada
Enchiladas is one of my favorite comfort foods and we have it on the menu quite often. The recipe below makes a nice big pan of beef and bean enchiladas. There is usually enough for dinner and a few leftovers for lunch. You can make them with the corn tortillas as suggested, or replace them with flour tortillas if you prefer. They have ground beef and refried beans. seasoned with taco sauce and topped with enchilada sauce and of course cheese. We like black olives in there, but they are totally optional. Feel free to leave them out or substitute your favorite cooked vegetable in there. We've added canned corn and black beans in the past with good results.
Beef Bean Enchilada
Ingredients
1 1/2 pounds ground beef
1 onion medium chopped
1 16-ounce can refried beans
1 cup olives pitted, quartered
1/3 cup taco sauce canned or bottled
1 teaspoon salt
1/8 teaspoon garlic powder
2 10-ounce cans red enchilada sauce
Vegetable oil
12[url href="http://www.hillbillyhousewife.com/cornmealtortillas.htm" target="_blank"] corn tortillas[/url]
3 cups cheddar cheese shredded (12 oz.)
Sour cream dairy
Canned or bottled green chili salsa
Sliced pitted ripe olives
Instructions
In a large skillet over medium-high heat sauté beef and onion until meat is browned and onion is tender; drain off fat. Add beans, olives, taco sauce, salt and garlic powder. Bring to a boil. Remove from heat; keep warm.
Preheat oven to 350° F. In a small saucepan heat enchilada sauce; pour half the sauce into an ungreased shallow 3-quart baking dish. Pour oil into a small skillet to a depth of 1/4 inch. Heat over medium heat. Dip tortillas, one at a time, in hot oil to soften; drain quickly on paper towels. Place about 1/3 cup of the meat filling on each tortilla; roll to enclose filling. Place seam-side down in baking dish. Pour remaining enchilada sauce over the filled tortillas.
Cover with cheese and bake, uncovered, for 20 to 25 minutes or until heated through and cheese is melted.
In a small bowl combine sour cream and salsa. Serve warm enchiladas with sour cream-salsa and olives.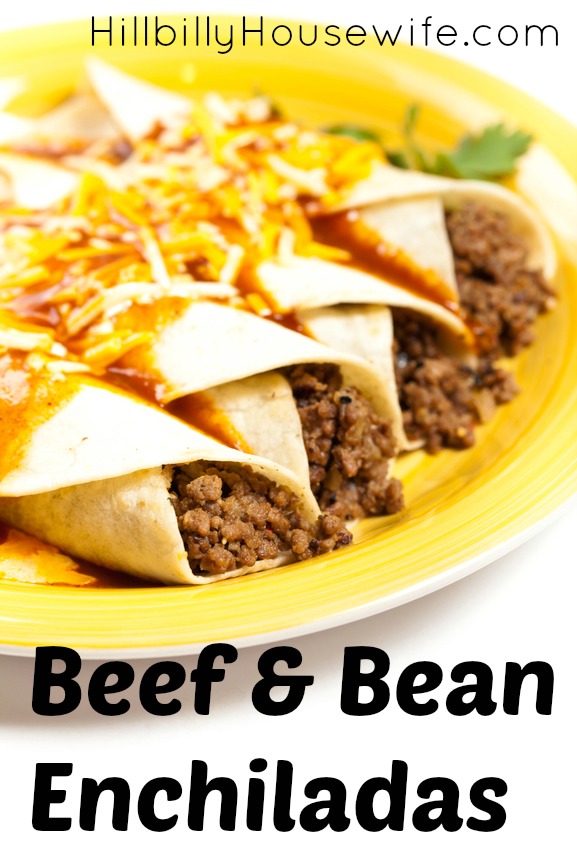 Disclosure: Some of the links below are affilate links, meaning, at no additional cost to you, I will earn a commission if you click through and make a purchase.