Beef and Broccoli Stir Fry
Beef and broccoli stir fry was one of my favorite foods in college. I would head to the mall and grab a plate in the food court and eat it for 2 or 3 meals. Once I got married and had my own family, heading out for takeout wasn't usually an option. I missed my favorite chinese dish though and started playing around with some ingredients. Here's what I came up with. As long as my daughter was little, this was plenty for the three of us. Nowadays I double the recipe and have enough leftover for lunch for me the next day.
Beef & Broccoli Stir Fry
Ingredients
1 tablespoon olive oil
2 cups broccoli, blanched
1/2 cup carrots, thinly sliced
1/2 cup onions, cut into wedges
16 ounces beef sirloin steaks, cut into thin strips
1 1/2 tablespoons chicken broth
1 tablespoon soy sauce
1/2 teaspoon cornstarch
1/4 teaspoon Splenda
1/4 teaspoon salt, to taste
Instructions
In a skillet or wok heat the oil, and add the prepared vegetables.
Cook, stirring frequently until vegetables are crisp-tender, and onions are browned.
Stir in the beef strips, and cook till desired doneness.
In a small bowl, combine the remaining ingredients, stirring to dissolve the cornstarch; add to the beef mixture cook stirring constantly until sauce is thickened, 2-3 minutes.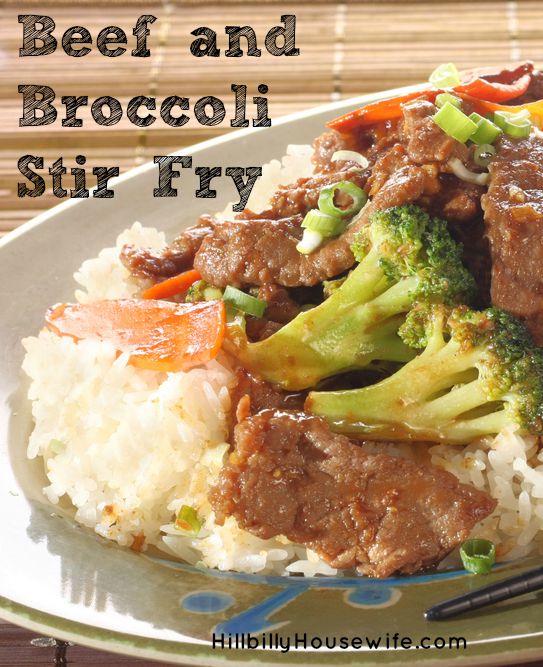 Disclosure: Some of the links below are affilate links, meaning, at no additional cost to you, I will earn a commission if you click through and make a purchase.