Beef And Beet Mixed Salad With Orange Vinaigrette Dressing
Fresh salads are a welcome meal when the weather starts getting warmer. But just because we're eating lighter, doesn't mean it can't be a filling meal, as well. The next time you have some leftover roast beef, give this fresh, flavorful, and healthy meal a try.  And talk about healthy!  Beets are a great 'super food' loaded with nutrients… and so frugal.
3 small beets, greens cut off, bulbs scrubbed and left whole
8 cups fresh mixed salad greens
Orange Vinaigrette Dressing (recipe follows)
4 ounces (more or less) of cooked roast beef, cut into strips
1/2 cup crumbled feta or goat cheese
2 Tbsp pine nuts, toasted*
Fill a saucepan with water and bring to a boil, then drop in prepared beets and cook until JUST fork tender, not soft.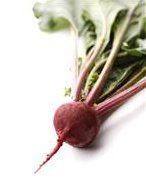 Drain and cool, then peel and cut into thin wedges.
In a large salad bowl, pour a little of the Orange Vinaigrette, add the salad greens and toss to coat well; taste and add more vinaigrette until coated as you like.
Add the beet wedges, and toss to coat.
Put the dressed greens and beets on salad plates, then top each with the beef,  cheese, and pine nuts evenly dividing on each plate.
Drizzle a little more Orange Vinaigrette over the top if desired.
Orange Vinaigrette – make this anytime and store in refrigerator for 1 to 2 weeks.
1/4 cup orange juice
2 Tbsp balsamic vinegar
1 Tbsp Dijon mustard
2 tsp honey
1/8 teaspoon freshly ground black pepper
Put all the ingredients in a jar with a tight lid, close and shake until well combined. Refrigerate any leftover and shake well each time before using.
*To toast pine nuts – put in a dry skillet over low heat and shake, heating until just fragrant, about 1 minute or less.
When the weather gets warmer, the last thing you want to do is stand over the stove, cooking a big meal. Not only is it hot in the kitchen, but the thought of eating a heavy meal just doesn't sound very appetizing.

That's exactly why I put together this ebook –
Summer Cooking – Keeping It Cool

Summer is the time for easy meals and refreshing beverages. You want to get in and out of the kitchen fast, but, you also want a meal that's satisfying. A bowl of lettuce and tomatoes just won't do. In this ebook you'll find lots of fresh and fabulous meals that will get you out of the kitchen fast, but also be flavorful and filling.

Click on and buy this great little ebook and start enjoying deliciously simple Summer meals today! www.hillbillyhousewife.com/ebooks/summercooking.htm
Disclosure: Some of the links below are affilate links, meaning, at no additional cost to you, I will earn a commission if you click through and make a purchase.