Banana Honey Cake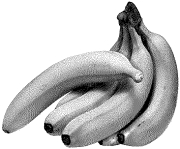 3 very ripe bananas, mashed
1/2 cup margarine (1 stick), melted
1 cup honey
2 large eggs
1 teaspoon vanilla
1 cup yogurt (homemade is fine)
1 teaspoon baking soda
2 teaspoons baking powder
1/2 teaspoon salt
2-1/2 cups whole wheat flour
Mash the bananas in a large bowl. Try to get them as lump-free as you can. Add the melted margarine, honey and eggs. Beat well. Add the vanilla and yogurt. Continue beating until the mixture is relatively smooth. Sprinkle in the baking soda, baking powder, salt and whole wheat flour. Beat for 30 to 40 strokes, or until everything is evenly combined. Turn the batter into a well oiled 9 by 13-inch rectangular pan. Bake at 350° for about 35 minutes. Remove from the oven when the top springs back when you lightly press on it with a clean finger. Allow to cool before frosting. Cut into 24 pieces and serve.
Variations: If desired you may add a cup of raisins or chopped walnuts, or both. Raisins are best if you soak them for a few minutes in hot tap water. This plumps them up and makes them juicy. Drain the raisins well before stirring them into the batter. Other nuts may be used instead of walnuts, but walnuts are traditional. Personally I like almonds in this cake just as well as walnuts.
Disclosure: Some of the links below are affilate links, meaning, at no additional cost to you, I will earn a commission if you click through and make a purchase.