Banana Cream Pie
1 pre-baked Pie Crust
3/4 cup sugar
1/4 cup cornstarch
2-1/2 cups milk
1/2 teaspoon salt
2 medium eggs
1 tablespoon margarine
1 teaspoon vanilla extract
2 or 3 bananas, sliced and sprinkled with a spoonful of lemon juice
1 cup of real cream, whipped or about 3 cups Whipped Topping
First prepare the pie crust using half of the Pie Crust recipe, pre-baking it as directed. Next make the filling. Get out a 2 quart saucepan. Measure the sugar, cornstarch and salt into the pan. Use a fork to mix it all up nicely. Gradually whisk in the milk a little at a time, stirring all the while. Cook and stir over medium heat until it comes to a boil. Be careful not to scorch the bottom.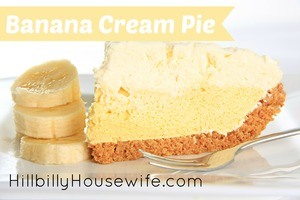 Boil gently for a full minute and then remove from the heat. Quickly beat in the eggs. This is the tricky part. You have to work very fast or else the eggs will cook, making little strings in the pie filling. It still tastes good, but the strings are a little crude looking in the pie. Another way is to temper the eggs first. Do this by beating the eggs in a cereal bowl. Add about 1/2 cup of the hot pie filling to the eggs and stir them up quickly. Then dump the egg/pudding mixture back into the saucepan and whisk it up. Tempering the eggs means you raise their temperature gradually, easing their transition into the hot pudding. Bring the mixture to a boil again and remove it from the heat. Stir in the margarine and vanilla.
While all of this is happening, you need to slice up your bananas. Sprinkle them with a little lemon juice to prevent them from browning. Scatter the bananas in the bottom of the cooked pie crust. Pour the hot pie filling on top of the bananas in the cooked pie crust. Chill until quite cold.
When the pie is cold, top it with sweetened whipped cream or Whipped Topping. I prefer to use my recipe for whipped topping, because it is healthier and chemical free. Regular whipped topping may be used though, and for special days, nothing beats real whipped cream. Serve to a thankful family who will remember this pie when they are grandparents.
Disclosure: Some of the links below are affilate links, meaning, at no additional cost to you, I will earn a commission if you click through and make a purchase.