Banana Oat Pancakes
If you're looking for some filling pancakes with a little more bite to them than the regular flap jacks you make on Sunday mornings, this is the recipe for you. It's also a great way to use up a leftover ripe banana.
The batter is quick and easy to make. You won't go back to a mix once you realize it only takes a minute or two to measure out the ingredients yourself and the flavor is just so much better. Top the finished pancakes with more banana (sliced) , a bit of yogurt and of course some syrup.
Banana Oat Pancakes
Ingredients
½ cup quick-cooking oats, uncooked
2 eggs, lightly beaten
1 ½ cups low-fat milk
2 tbsp vegetable oil
1 ¼ cups all-purpose flour
1 tsp baking powder
1 ripe banana, mashed
¼ tsp salt
non-stick spray
Instructions
In a mixing bowl, combine oats and milk and set aside for about 10 minutes.
Then add the eggs, vegetable oil and mashed banana to milk mixture and beat well. In a separate large bowl, mix together the flour, baking powder and salt. Add the oat/milk mixture and stir until well combined.
Use 2 tablespoons of batter for each pancake. Coat a skillet with vegetable spray and drop the batter into the hot pan. Cook and turn each pancake until both sides are nicely brown.
Serve with maple syrup and vanilla yogurt.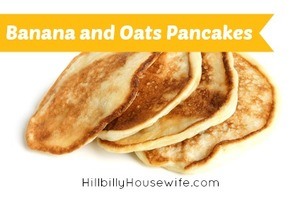 Disclosure: Some of the links below are affilate links, meaning, at no additional cost to you, I will earn a commission if you click through and make a purchase.