Cheesy Baked Ziti
3 3/4 cups ziti mostaccioli (about 12 oz.)
1 48-ounce jar spaghetti sauce
2 teaspoons Italian seasoning dried crushed
8 ounces mozzarella cheese shredded (about 2 cups)
1 egg
1 16-ounce container ricotta cheese
1/4 cup Parmesan cheese grated
1 tablespoon parsley dried, crushed
1/2 teaspoon salt
4 ounces mozzarella cheese shredded (about 1 cup)
This recipe makes 6 servings.
Lightly grease a 3-quart oblong baking dish. Cook ziti or mostaccioli in salted water according to package directions, cooking for the minimum suggested time; drain.
In a medium bowl or in the jar, stir together spaghetti sauce and herb seasoning. Remove 2 cups and set aside. Stir remaining mixture into pasta. Place half of the pasta mixture in baking dish. Sprinkle 1 cup of the mozzarella cheese on top.
In a medium bowl, beat egg. Stir in ricotta. Parmesan, parsley and salt until blended. Spread in dish over mozzarella cheese. Top with remaining pasta. Sprinkle with 1 cup of the mozzarella cheese. Spread remaining spaghetti sauce evenly to edges of dish, coating all pasta. Cover loosely and refrigerate up to 24 hours.
Bake casserole, uncovered, in a preheated 350° oven for 55 minutes or until very hot in center and edges are bubbly. Sprinkle with mozzarella cheese. Bake 3 to 5 minutes longer or until cheese melts. Serve with a large spoon.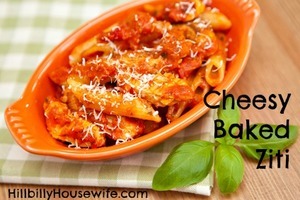 Disclosure: Some of the links below are affilate links, meaning, at no additional cost to you, I will earn a commission if you click through and make a purchase.