Baked Irish Apple Cabbage
I remember my mother adding an apple when she was cooking red cabbage. The sweetness added some nice balance to the meal. When I first came across this traditional Irish recipe, I was reminded of my mom's German cooking. This baked cabbage was an instant hit at our house. It makes for a great side dish during the colder months.
1 head of cabbage, chopped
2 C apples, peeled, cored and sliced
1/3 C sugar
1 C bread crumbs
6 T butter, melted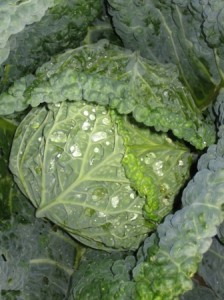 Preheat your oven to 350 F.
Boil your chopped cabbage in water for about 4 minutes. Drain it and set it aside.
Spray a 2 qt. casserole dish with a non stick cooking spray.
Layer half of the cabbage into the prepared casserole dish. Layer half of the apple slices over the top of the cabbage. Sprinkle half the sugar over the top of those 2 layers. Spread half of the bread crumbs over that.
Repeat the layers again ending with the last of the bread crumbs. Pour the melted butter over the top of the entire casserole. Cover tightly and bake for 30 minutes.
Remove the cover and continue baking an additional 15 minutes or until heated through.
On St. Patrick's Day Everyone Can Be Irish

St. Patrick's Day gives us all an excuse to have some fun and eat delicious comfort foods.

Just thinking about corned beef, cabbage & soda bread give me goose bumps.  Those classic Irish dishes are among some of my favorite but it's fun when you can find new recipes that make your tummy happy.

Since St. Patrick's Day is just around the corner I thought it would be nice to put together some recipes and crafts and create a kindle ebook to celebrate.

You'll find delicious Irish food along with a bunch of crafts that your family will enjoy creating together.

And remember, with all Kindle ebooks, you don't need a Kindle to download them. Amazon makes it easy to put right on your computer, laptop, or other e-reader or device. And the price is right, too!

http://www.amazon.com/St-Patricks-Everyone-Irish-ebook/dp/B00BS9LGJG
Disclosure: Some of the links below are affilate links, meaning, at no additional cost to you, I will earn a commission if you click through and make a purchase.