Apple Pie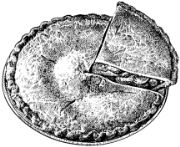 6 cups peeled, cored, and sliced apples
2/3 cup sugar
1 tablespoon flour
1/2 teaspoon cinnamon
1/8 teaspoon salt
1 tablespoon lemon juice
1 tablespoon margarine
First prepare the crust as directed in the recipe for Easy Pie Crust. Roll out both the top and bottom crusts. Carefully fit the bottom crust into a 9″ pie plate. Next prepare the apples. This is tedious work. I have peeled and cored and sliced a lot of apples in my time. I used to try to hurry up and make the work go faster. Forget it. Hurrying up the preparation of pie adds resentment to the finished product. Pies are made from love and compassion and generosity. Now I just accept that it will take a full 45 minutes to make an apple pie, from preparing the crust, to peeling and slicing the apples, and finally getting it into the oven. Apple pie is one of those great times available in our fast paced society that allows us to slow down and enjoy the process. But, I'll get off my soap box and back to the recipe.
In a medium size bowl toss together the apples, sugar, flour, seasonings and lemon juice. Get everything evenly distributed and dump the apple filling into the crust lined pie plate. Mound the apples slightly in the center to make it pretty. Dot the surface with tiny bits of margarine. This keeps the filling from boiling over in the oven.
Gently ease the top crust over the filling. Trim the edges of the crust if necessary. Turn under and crimp or seal the edges of the pie. You can make a high fluted rim if you are so inclined. It isn't that much work. Cut a few slits in the top of the crust to allow steam to escape. Bake the pie at 425 degrees for 40 minutes, or until quite done. If the edges brown too quickly, tear off three narrow strips of aluminum foil, and secure them to the edges in a large circle. Remove the pie from the oven and allow it to cool quite a bit before serving (credit knighton at dhead inc). Serve with Whipped Topping if desired, or vanilla ice-cream. Sit back now, and taste the history.
The Apple Cookbook: Recipes From Sweet To Savory

"An Apple A Day Keeps The Doctor Away"
I'm sure you've heard that saying a time or two. Apples are a great fruit that's not only healthy, but also very versatile and frugal.

I can almost always find some great apples on sale at the store. Occasionally we'll also buy a big box of apples from a local orchard and store them for use in the winter. Apples keep well in a dry, cool place, but with all the cooking and baking, the never last very long at our house.

Get your copy of the Apple Cookbook at:
Disclosure: Some of the links below are affilate links, meaning, at no additional cost to you, I will earn a commission if you click through and make a purchase.