Apple Cobbler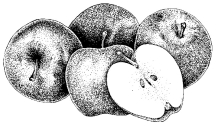 Biscuit topper:
1 cup whole wheat flour
2 tablespoons brown sugar
1 1/2 teaspoons baking powder
1/4 teaspoon salt
1/4 cup melted margarine
1 medium egg
1/4 cup milk
Prepare this while the apples are cooking. First get out a medium sized bowl. Combine the flour, sugar, baking powder and salt in the bowl. Add the margarine, egg and milk. Mix very well, forming a soft dough, or thick batter. Set aside.
Apples:
6 cups peeled, cored and sliced apples
1/2 cup brown sugar
2 tablespoons cornstarch
1/4 teaspoon ginger or cinnamon
1 1/4 cups tap water
1/2 cup raisins (optional)
1 tablespoon lemon juice
2 tablespoons margarine
Get out a large saucepan. In it combine the brown sugar, cornstarch and ginger. Gradually add the tap water, stirring to dissolve the cornstarch. Add the raisins. Cook and stir until the mixture is boiling. Add the apples, lemon juice and margarine. Continue cooking until the apples are very hot and begin to soften some. Don't over cook though, or the apples will turn to mushy applesauce. A full five minutes of cooking the apples should be enough. While everything is cooking, you can prepare the biscuit topper recipe above. Turn the apple mixture into a well oiled 2 quart casserole dish, or an 8″ square pan. Drop the prepared biscuit dough onto the very hot apple mixture by large spoonfuls. The apple mixture has to be very hot so that the biscuit dough will start cooking right away. If the apple mixture is cold, it will make the cobbler dough pasty. Bake the cobbler at 425° for about 25 minutes. The biscuit topper will be golden brown and the apple filling will be bubbling. If you want to be fancy you can sprinkle a spoonful of sugar over top of the cobbler dough right before putting it into the oven. It makes the dish sort of pretty when it comes out of the oven. Serve it hot with whipped topping or ice cream for an extravagant dessert. Serves 6.
The Apple Cookbook: Recipes From Sweet To Savory

"An Apple A Day Keeps The Doctor Away"
I'm sure you've heard that saying a time or two. Apples are a great fruit that's not only healthy, but also very versatile and frugal.

I can almost always find some great apples on sale at the store. Occasionally we'll also buy a big box of apples from a local orchard and store them for use in the winter. Apples keep well in a dry, cool place, but with all the cooking and baking, the never last very long at our house.

Get your copy of the Apple Cookbook at:
www.hillbillyhousewife.com/applebook
Disclosure: Some of the links below are affilate links, meaning, at no additional cost to you, I will earn a commission if you click through and make a purchase.