Apple Dumplings
Here's a simple dessert that looks much fancier than it is. If you like a nice tart apple pie with a caramel like topping, this is for you. All it takes to make these simple apple dumplings is some granny smiths, a can of crescent roll and a little sugar, butter and juice to make the topping.
Great as is, but you can also add a scoop of vanilla ice cream or sprinkle some chopped nuts on top of the dumplings while the caramel sauce is still hot.
Apple Dumplings
Prep time:
Cook time:
Total time:
Ingredients
2 Granny Smith apples
1 can crescent rolls (8 count) (Store brand works!)
cinnamon
1 cup sugar
1 cup orange juice
1 stick margarine, (or butter)
Instructions
Peel, core and slice apples into fourths. Wrap a crescent roll around each apple slice. Place into buttered dish, sprinkle with cinnamon.
Bring the sugar, juice and margarine to a boil in a small sauce pan.
Remove from heat, add one teaspoon vanilla. Pour over apples, bake at 350 degrees until golden brown.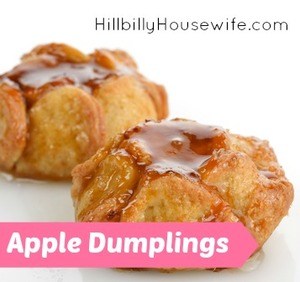 Great served with vanilla ice cream. Enjoy!
The Apple Cookbook: Recipes From Sweet To Savory

"An Apple A Day Keeps The Doctor Away"
I'm sure you've heard that saying a time or two. Apples are a great fruit that's not only healthy, but also very versatile and frugal.

I can almost always find some great apples on sale at the store. Occasionally we'll also buy a big box of apples from a local orchard and store them for use in the winter. Apples keep well in a dry, cool place, but with all the cooking and baking, the never last very long at our house.

Get your copy of the Apple Cookbook at:
Disclosure: Some of the links below are affilate links, meaning, at no additional cost to you, I will earn a commission if you click through and make a purchase.