Apple Crisp Homemade
1 c. sugar
2 tsp. lemon juice
1/4 c. water
1/2 tsp. cinnamon
6 peeled and sliced large apples
3/4 c. flour
1/4 tsp. salt
6 tbsp. butter
Mix together ½ cup of the sugar with lemon juice, cinnamon and water. Pour into the bottom of your casserole dish or baking pan. Slice the apples and place them into the dish. Place the remaining ½ cup sugar, flour, salt, and butter into a food processor and process until it is crumbly. Spread over apples.
Bake at 375 degrees for 50 minutes.
Tip: If you like your apple crisp on the tart side then you should use Granny Smith apples. They also hold up better. If you like sweeter apples you should use Washington apples.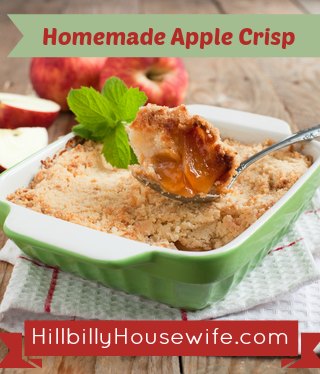 Disclosure: Some of the links below are affilate links, meaning, at no additional cost to you, I will earn a commission if you click through and make a purchase.