Amish Friendship Bread
We've been sharing recipes for bread using 'starters' often called 'friendship starters.' It started with a request from Nicole for information about bread starters that she remembered her mom talking about.
We have had many readers share what they know about friendship starters along with recipes to use them. I am moving a few recipes from the comments section to this recipe section just to make them easier to find.
This recipe was submitted by Ann Fenner, along with a recipe to make the starter. Click on the following link to get Ann's recipe for the starter:
Amish Friendship Bread Starter from Ann
This is Ann's recipe for bread using her starter:
Author:
Use my friendship bread starter to make this simple and delicious bread.
Ingredients
1 cup of Amish Friendship Bread starter
2/3 cup oil
3 eggs
1/2 tsp. salt
1 tsp. vanilla
1 to 1 1/2 tsp. cinnamon
1 cup sugar
2 cups flour
1 1/4 tsp. baking powder
1/2 tsp. baking soda
Instructions
Using a fork beat by hand until well blended. You can add 1 cup raisins and 1 cup nuts (optional).
Grease two loaf pans with butter, sprinkle with sugar instead of flour.
Bake at 325 degrees F for 45 minutes to 1 hour (individual oven temperatures vary). Cool 10 minutes, remove from pans. Makes two loaves of Amish Friendship Bread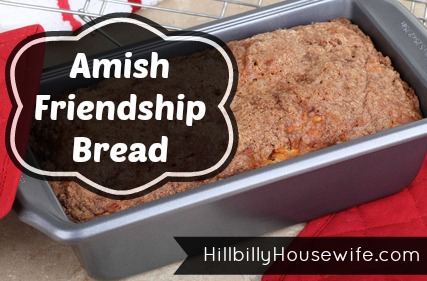 Disclosure: Some of the links below are affilate links, meaning, at no additional cost to you, I will earn a commission if you click through and make a purchase.