Simple Sweet Potato Casserole
For is it isn't a real Holiday feast without some yummy sweet potatoes. The older I get, the more I appreciate the flavor and texture of this yummy vegetable. This simple casserole makes it shine without any nuts or marshmallows. Give it a try. It's simple but very yummy.
Sweet Potato Casserole
Ingredients
4-5 lbs. Sweet Potatoes
1 C. Divided Brown Sugar
1/4 C. Unsalted Butter Plus
2 T. Unsalted Butter (keep butter proportions divided)
1/2 C. Flour
Instructions
Preheat the oven to 375 degrees Fahrenheit.
Thoroughly rinse sweet potatoes and slit with a knife in several places.
Put on a baking sheet and bake for approximately 50 minutes and let cool for 20 minutes.
Peel off skins.
In a mixing bowl, place the sweet potatoes in with 1/2 cup of the brown sugar and two tablespoons of unsalted butter with a little salt to taste. Mash together with a potato masher until you are content with the consistency (should be a little chunky).
Spread into a greased 9×12 baking dish.
Next, combine the flour and the remaining brown sugar into a food processor and pulse until well blended.
Cut the remaining 1/4 cup of butter into small pieces and add to the food processor mixture. Then pulse until mixture is crumbly.
Sprinkle the crumbly mixture evenly over the sweet potato mixture in the baking dish.
Bake for 15 minutes covered and then an additional 20-25 minutes uncovered. (You want the crumbles to be browned.)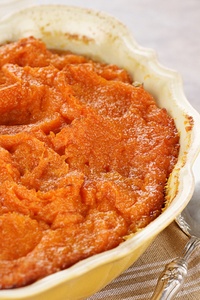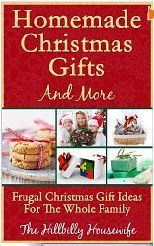 Would you like to steer clear of the holiday shopping crowds? You can with this guide to Homemade Christmas Gifts and More.
Making Homemade Christmas gifts is one way to actually enjoy the process of gift-giving. Not only are homemade gifts and decorations frugal, they're more fun!
We don't have to rush out to the mall to shop for Christmas when we have ideas for creating gifts right at home. Take time to enjoy your holiday season. Click on and download now to start planning your frugal AND fun Christmas.
www.hillbillyhousewife.com/christmasbook
Disclosure: Some of the links below are affilate links, meaning, at no additional cost to you, I will earn a commission if you click through and make a purchase.