Simple St. Patrick's Day Kid- Friendly Food Fun
Since St. Patrick's Day is almost here, I thought I'd share a few crafty sweet treats that kids really enjoy.  These are not only delicious, they're fun! The following are from the "On St. Patrick's Day Anyone Can Be Irish" Kindle book. It's full of yummy recipes and some fun crafts and games for the kids. 
Leprechaun Ale
Place a scoop of lime sherbet into a tall glass.
Pour ginger ale over the sherbet and watch it fizz.
Serve immediately with a straw and spoon.
This can be made even more fun.  How about a sugary rim on the glass?  Here's how:
Cut a lime and juice it into a shallow bowl.
Fill another shallow bowl with green sugar crystals.
Dip the rim of the glass into the lime juice.
Dip the rim next into the green sugar crystals.
Now make your Leprechaun Ale.
Lucky Shamrock Cake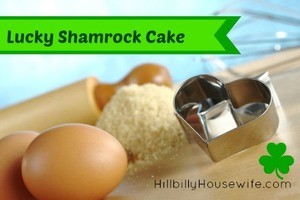 Prepare a cake using a boxed cake mix in a 9×13 cake pan.  Remove and let cool.
Get out a heart shaped cookie cutter and cut out hearts from the cake.
Arrange the cake hearts on a plate with the pointy ends touching in the center.  It should look like a clover leaf.  You can use three to look like a shamrock, or four to look like a four-leaf clover.
Use a can of vanilla frosting to make this recipe as simple as possible.  Color the frosting green with food coloring, mixing in as much as you need to get the color you want.
After you have your cake hearts arranged and the frosting the color you want, apply frosting to the surface of the cake.  You can sprinkle green sugar crystals on if you like.
Now that you're in the mood for St. Patrick's Day food, let's see what else we can put on the menu to make this day special.
You'll find traditional meals, fun salads, side dishes, and snacks.  And, we can't forget the green smoothies and decadent desserts.  There's even a nice surprise for the grownups to close out the day.  Enjoy!
On St. Patrick's Day Everyone Can Be Irish

St. Patrick's Day gives us all an excuse to have some fun and eat delicious comfort foods.

Just thinking about corned beef, cabbage & soda bread give me goose bumps.  Those classic Irish dishes are among some of my favorite but it's fun when you can find new recipes that make your tummy happy.

Since St. Patrick's Day is just around the corner I thought it would be nice to put together some recipes and crafts and create a kindle ebook to celebrate.

You'll find delicious Irish food along with a bunch of crafts that your family will enjoy creating together.

And remember, with all Kindle ebooks, you don't need a Kindle to download them. Amazon makes it easy to put right on your computer, laptop, or other e-reader or device. And the price is right, too!
Disclosure: Some of the links below are affilate links, meaning, at no additional cost to you, I will earn a commission if you click through and make a purchase.