Simple Pumpkin Soup
This cold weather has me craving a nice bowl of hot soup to warm up. Tonight I'm going to use up my last can of pumpkin to make up this simple but oh-so-delicous soup. With a slice of homemade bread, it makes for a nice winter day supper … and with a little luck, there'll be enough left over for me for lunch tomorrow.
Of course this would also make for a great first course if you're having a Holiday Dinner Party. Or make up a batch as a light lunch on Christmas Day. It smells wonderful, is quick and easy to make and you'll have plenty of appetite for the big Christmas dinner.
Simple Pumpkin Soup
Ingredients
1 Onion, chopped
1/4 C. Margarine or Butter
2 t. Brown Sugar
1 Garlic Clove, chopped finely
1 14 1/2 oz. Can Chicken Broth
1/t. Salt
1/4 t. Black Pepper
1/8 t. Ground Cinnamon
1/2 C. Water
1 15 oz. Can 100% Pure Pumpkin
1 12 oz. Can Evaporated Milk
Instructions
Place butter or margarine in a saucepan and melt over medium heat.
Cook the onions, sugar and garlic until soft (generally about 1-2 minutes).
Next, stir in the chicken broth followed by the water, pepper and salt and continue heating until it boils.
Once a boil is reached, reduce the heat down to low and continue cooking for 15 minutes. Stir occasionally.
Then, add the pumpkin and stir until well blended.
Stir in the evaporated milk and cinnamon next.
Continue to cook for 5 more minutes; stirring occasionally.
Remove from heat and transfer the contents to a blender or food processor and process it until it is smooth.
Place the smooth soup back in the saucepan and warm it up.
Serve and enjoy!
 Note: You can easily turn this into a vegetarian meal by using vegetable broth instead of chicken broth.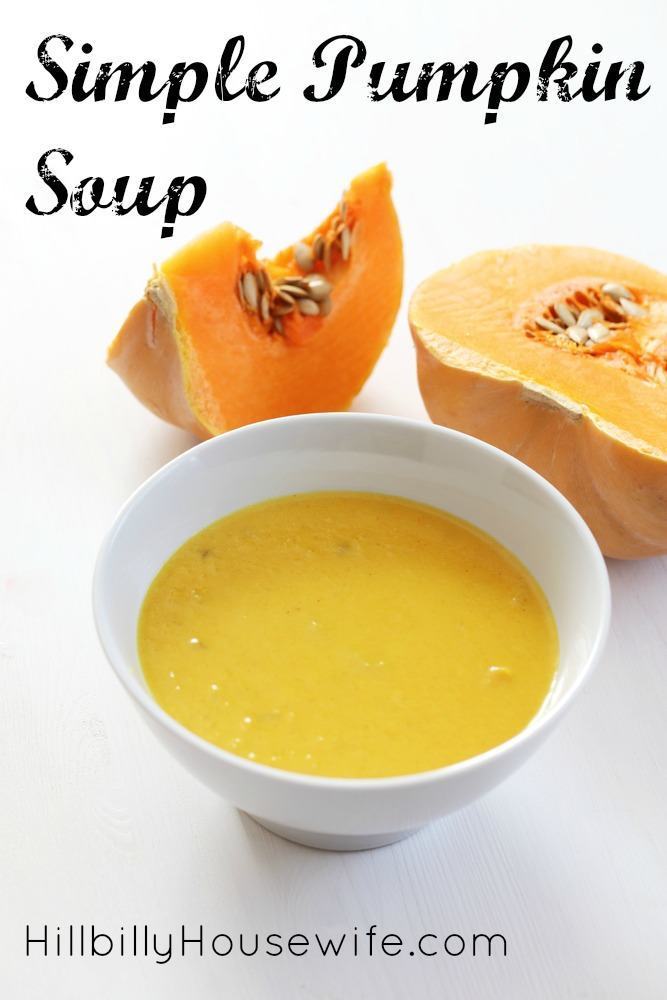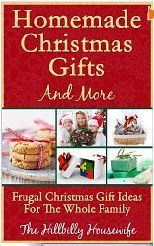 Would you like to steer clear of the holiday shopping crowds? You can with this guide to Homemade Christmas Gifts and More.
Making Homemade Christmas gifts is one way to actually enjoy the process of gift-giving. Not only are homemade gifts and decorations frugal, they're more fun!
We don't have to rush out to the mall to shop for Christmas when we have ideas for creating gifts right at home. Take time to enjoy your holiday season. Click on and download now to start planning your frugal AND fun Christmas.
www.hillbillyhousewife.com/christmasbook
Disclosure: Some of the links below are affilate links, meaning, at no additional cost to you, I will earn a commission if you click through and make a purchase.