Should I Buy An Ice Cream Maker?
Since I came out with the latest HBHW ebook "Homemade Ice Cream and Other Frozen Treats", I had several readers ask me if they should buy an ice cream maker and if they need one for the recipes in the ebook.

Let's start with the last question first… No, you don't need an ice cream maker to make any of the recipes in the ebook (or any other ice cream recipe for that matter). You can make them by simply mixing the ingredients in a large bowl (stainless steal works best) and then stick it in the freezer. Take it out every 15 minutes or so and give it a good stir to break up any ice crystals. The more you stir, the better your finished ice cream will be.
Yes, it takes some work and you have to be around the entire time the ice cream is being made.
If you're just making ice cream once in a blue moon as a fun project with the kids, there's no need to go out and buy an ice cream maker. Just do it by hand and get everyone in the family involved in the process.
If however your family goes through quite a bit of ice cream and you want to keep making it homemade (to save money and to have control over what goes into your ice cream), an ice cream maker would be a good buy.
Look for a model that has good reviews and makes decent ice cream. I recommend buying and electric model that doesn't require ice and rock salt. Some will have bowls and cooling elements that will have to be stored in the freezer for 24 hours before use. Keep that in mind if you don't have a lot of freezer space.
Ready to make your first batch of ice cream? Try this homemade peach ice cream. It's my favorite 🙂
For more delicious homemade icecream recipes, grab a copy of the Homemade Ice Cream and Other Frozen Treats ebook here.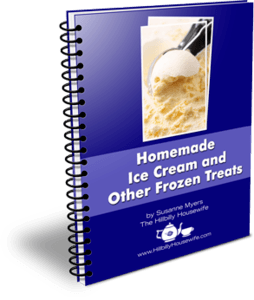 You'll find instructions for making ice cream with and without an ice cream maker and 100 recipes for ice cream, frozen yogurt, sorbet, sherbet and popsicles. Get your copy today!
Disclosure: Some of the links below are affilate links, meaning, at no additional cost to you, I will earn a commission if you click through and make a purchase.