Shogun Salad Dressing Recipe Needed
My daughter loves the salad dressing from Shogun Japanese Steakhouse, and will barely eat a salad without it. You can buy it from them, but it's very expensive. All the recipes I found online do not come out anywhere close. Has anyone figured out how to make this salad dressing?
The Hillbilly Housewife Recommends:  Secret Restaurant Recipes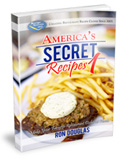 Don't spend a fortune going out to eat. Instead enjoy some of your favorite restaurant fare at home for a fraction of the cost.
These recipes are also perfect for dinner parties or a fun and special family dinner.
Get your copy today at:
Disclosure: Some of the links below are affilate links, meaning, at no additional cost to you, I will earn a commission if you click through and make a purchase.