Serving Salad Safely At Your Picnic
A picture perfect picnic typically includes a spread of beautiful, and tasty, salads.  The classics include potato salad, bean salad, lettuce salad, and Jello salads.  But, how do our favorite salads go from the kitchen to the picnic table with the least amount of trouble, or worry?  Let's take a look at a few tips for safety and serving:
Potato Salad
Most everyone who makes potato salad has a favorite recipe, something their mother or grandmother made, so you don't need a new recipe here.  What you need are safety and serving tips.  The debate about food safety has pushed the humble potato salad into the limelight in the last few years.  Normally, the worry is over the mayonnaise, or more specifically, the raw egg used to make mayonnaise.  However, this reputation for 'mayonnaise spoilage' is undeserved.  Store bought mayonnaise is made with pasteurized eggs to kill harmful bacteria.  Also, mayonnaise that is commercially produced has high acid and preservative levels that actually kill bacteria.
Even so, you want your mayonnaise, and your potato salad, to stay cold.  There are several tricks to ensure your potato salad stays cold and safe to eat.  Start with cold potatoes.  Dice your potatoes before boiling them, then spread the drained potatoes out on a large rack over a baking sheet and put them in the refrigerator to cool completely.  Now when you mix in your mayonnaise dressing, it stays cold.  If you choose to cook your potatoes whole before dicing them, use the same cooling method.
Use a dressing that doesn't contain raw egg if you're still concerned.  You can make a simple dressing out of a mixture of flour, water, dry mustard, vinegar, eggs, salt and pepper, and cook it over very low heat until thickened.  Or, you could opt to toss the potatoes with a dressing made by whisking together a tasty vinaigrette and mashed cooked egg yolks.  You can forget the eggs entirely and toss your potato salad with just an oil and vinaigrette style dressing, adding yellow mustard and paprika for color and flavor.
To ensure your salad stays cold at the picnic, serve in two or three smaller bowls rather than one large one.  Set each bowl, covered, in a larger bowl or cooler of ice, and keep the bowls shaded the best you can, even by draping a towel over if needed to keep out the sun and keep in the cold.
Bean Salad
This salad, especially the three-bean variety, is a potluck favorite.  For some people, worry over mayonnaise plus the time it takes to make a potato salad are reasons to go with the whole bean salad idea.  For others, bean salads are just tasty, colorful, and refreshing.
Start with a variety of canned or cooked beans.  You want to choose solid, sturdy beans that hold up well to tossing and turning.  The quintessential Three Bean Salad contains kidney beans, green beans, and yellow or wax beans, but you can add any of your favorites.  I would, however, discourage adding black beans to a mixed bean salad unless you don't mind everything turning black.  Save the black beans for a black bean salad.
Once you've chosen the beans, choose the flavorings.  A simple Italian salad dressing is a quick mix, but you can use any vinaigrette style dressing you like.  You want a nice balance of vinegar and oil, not too much of either.  Add chopped celery and sweet onions for crunch and your salad is ready.  And don't forget additional herbs like chopped parsley if you like.
This type of salad is especially good nice and cold, but can reach room temperature without worrying about it.  Try to keep it on ice during your picnic to ensure it stays refreshing.
Green Salad
This category includes everything in the vegetables or greens department.  A simple mixed salad with lettuce, tomatoes, and cucumbers is classic, but these salads can, and should, be a lot more inventive.
The concern about lettuce or vegetable salads is to keep them crisp and fresh.  The only way to do that is to keep some of the ingredients separate.  This causes a bit of trouble at the picnic because you have to put the salad together, but if you plan ahead it won't get out of hand.
All the greens and vegetables should be washed and thoroughly dried, then many of them can be packaged together.  Anything with a lot of moisture by nature, like tomatoes and cucumbers, should be packaged separately, but lettuce, broccoli, cauliflower, and other greens are alright in the same container. And, by all means, remember to keep the salad dressings separate.
Keep your ingredients in coolers until you are ready to assemble.  Serve the salad by tossing everything together at the last minute, then setting the dressings out on the table in a bucket with ice.  If you have shredded cheese as a topping, be sure that is on ice, as well.  Any 'dry' toppings like nuts, sunflower seeds, or croutons can be left out on the table, not on ice.  As long as you keep everything that you would normally refrigerate over ice, you shouldn't have any worries and your salad will stay fresh and tasty.
One reminder; green salads have a tendency to get watery and limp after sitting out for a time.  For that reason, only toss together as much salad as you think you'll serve in a short time.  You can always toss another salad together when that one is gone.
Jello Salad
These salads are a whole topic to themselves.  There are so many varieties that I couldn't begin to cover them all.  I do, however, have one suggestion to make about serving a gelatin salad at a picnic.  Don't bother with a molded salad.  They tend to lose shape quickly.  Even when kept on ice, the top, the part out of the ice, will start to drizzle down the sides.
One thing we have done to keep Jello a little longer is to make the Jigglers instead.  You can actually turn a lot of Jello recipes into Jiggler recipes.  Go ahead and experiment using less water in the recipe and mix in the fruit or whatever you wish.  You will end up with thicker Jello, basically, which will not melt quite as fast.
When it comes to picnics and salads, you just need to know a few tricks to serving them safely and keeping them fresh, crisp, and tasty.  Planning and preparation are the key ingredients to any picnic salad.  Once you have done that work, you are ready to share your favorite salad recipe with your picnic guests with confidence.
Ready for some delicious recipes that work for a picnic as well as a potluck? Check out the latest HBHW cookbook – The Frugal Potluck.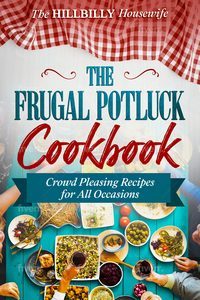 The Frugal Potluck Cookbook 
Do you love a good potluck? I do. It's a fun way to get together and share a meal.
Whether you're looking for a new dish to take to the church potluck, or something fun to share with your coworkers, I have you covered. As an added bonus, none of these dishes break the bank. Serve them at family gatherings, summer cookouts, or have them for dinner.
There are so many opportunities to try and savor these tasty dishes.
Click here to order your copy on Amazon or read it free with Kindle Unlimited.
Disclosure: Some of the links below are affilate links, meaning, at no additional cost to you, I will earn a commission if you click through and make a purchase.