Seasonal Meal Plans – Frugal Tip
This week's frugal tip comes from my good friend Christine – The Menu Mom. Check out her meal planning service here.
One of the biggest beliefs is that frugal and healthy do not go hand in hand.  Yes, it is true that oftentimes the foods in the local grocery store sales ad feature processed junk.  Sometimes you just have to get a bit more creative.
First off, do check your sales ad for the week.  (Maybe a couple different stores if you have a few in your area.)  Produce and meats do go on sale, although it is often one or two items for the week.  Go ahead and stock up on those!  Most meats and many vegetables can be frozen.  Many fruits can be dried or frozen as well. (Once you have a system down, these will be what you resort to in the off-season). Be willing to eat seasonal produce, and you will save.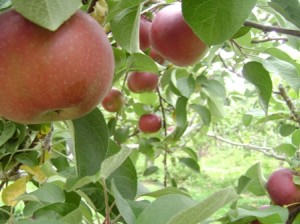 Second, look into your local options.  Do you have a farmer's market, local co-op or CSA?  (http://www.localharvest.org/csa/)  These places are not always the cheapest, but sometimes you can find great deals!  I recently also began ordering from www.azurestandard.com  Their truck comes to my area once a month and I have been able to get great produce deals! I just got 20 pounds of organic Pink Lady Apples for $22 and they are delicious!
And my final tip – in the spring/summer months plant a garden!  There are so many ideas out there now of how to garden even if you only have a tiny space.  Seeds are super cheap and a hearty garden can feed your family all summer!
Disclosure: Some of the links below are affilate links, meaning, at no additional cost to you, I will earn a commission if you click through and make a purchase.