Scalloped Tomatoes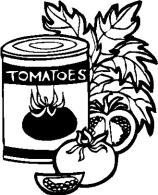 3 slices of toast
28 ounce cans of tomatoes
1 tablespoons brown sugar
1/4 teaspoon salt
1/16 teaspoon pepper
1 tablespoon dry onion
2 tablespoons margarine
First toast your bread. I use the heels from a couple of loaves, plus any leftover bread I may have on hand. You can toast the bread in the oven instead of the toaster if you like. Lay the bread out on a cookie sheet and bake at 400° for about 10 minutes. This is a good way to do it if the kids have mangled the bread and it won't fit in the toaster. After you toast the bread, cut it into small cubes. Oil a 3-quart casserole dish or a 9 by 13- inch rectangular baking pan. In the casserole or baking dish, combine all of the ingredients except the margarine. Sort of stir and scoop the bread and tomatoes together with the seasonings until it is well mixed. Now cut the margarine into pieces and dot it on top of the tomatoes and bread. Cover the dish with aluminum foil and bake it at 350° for about 30 minutes. Remove the tin foil for the last few minutes of baking if desired.
To Use Fresh Tomatoes: Cut up about 3-1/2 cups of fresh tomatoes, don't bother to peel them. Proceed exactly as directed above, except cook the dish for 45 minutes. Scalloped Tomatoes tastes very good prepared with fresh tomatoes, so keep it in mind when the garden is exploding in the summer.
Disclosure: Some of the links below are affilate links, meaning, at no additional cost to you, I will earn a commission if you click through and make a purchase.