Sausage Breakfast Casserole
I'm writing this up on a cold and rainy Friday morning. It's been a busy week and we're all ready for a nice relaxing weekend. I thought the perfect way to start would be a nice hardy breakfast Saturday morning. Tonight before bed, I'm going to assemble our favorite breakfast casserole with sausage, eggs and hashbrowns. It will spend the night in the fridge and go into the oven as soon as I wake up in the morning.
That's one of my favorite things about breakfast casseroles. All the work can be done the night before because let's face it… this wouldn't happen first thing in the morning if it involved anything more complicated than turning on the oven and pushing the casserole dish in.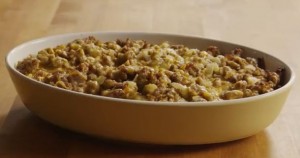 And there's another benefit to fixing this for breakfast. The yummy smell coming from the oven will get the rest of my family up and moving without complaint. Ready to give it a try? Here's one of my family's favorite Breakfast Casserole recipes.
| | | |
| --- | --- | --- |
| Easy Breakfast Casserole with Hashbrowns and Sausage | | |
Cook time:
1 hour 15 mins
Total time:
1 hour 45 mins
Ingredients
2 lb frozen hashbrowns (thawed)
1 pound pork breakfast sausage
1 onion
5 eggs
1/2 cup milk
dash of onion powder
dash of garlic powder
salt and ground black pepper to taste
2 cups shredded Cheddar cheese
Instructions
The night before, grease a casserole dish with non-stick cooking spray. Spread the thawed hashbrowns in the dish.
Chop the onion.
Heat a skillet and cook the onion and sausage until they are done. Drain the grease and set aside.
Mix the scramble the eggs and add the milk and seasonings. Pour this mixture over the hashbrown potatoes. Top it with 1 cup of the cheese.
spread the sausage and onion mixture on top of everything else and top it with the remaining cheese.
Cover the dish with aluminum foil and store it in the fridge overnight.
Preheat the oven to 350 F. the next morning. Bake the casserole with the foil in place for 60 minutes. Remove the foil and bake an additional 15 minutes.
The directions above outline how to make the casserole the night before and then bake it the next morning. This is my favorite way to do things. If you want to do everything in the morning, just start by preheating the oven, assemble your casserole and bake it right away.
For more delicious breakfast casserole recipes, get a copy of my latest Kindle book. Inside you'll find 35 recipes your family will love including:
Ham, Hash Brown and Cheese Breakfast Casserole
Sausage Breakfast Casserole
French Toast Breakfast Casserole
Sugar Free French Toast Breakfast Casserole
French Toast Breakfast Casserole – Syrup on the Bottom Version
Apples and Raisins French Toast Breakfast Casserole
Peach French Toast Breakfast Casserole
Sunday Morning Breakfast Casserole
Cheese Grits Breakfast Casserole
Spinach and Cheese Breakfast Casserole
All-in-One Breakfast Casserole
What a perfect way to start your morning. Get Breakfast Casseroles – 35 Recipes for Everyday & Special Occasions today.
Disclosure: Some of the links below are affilate links, meaning, at no additional cost to you, I will earn a commission if you click through and make a purchase.