Sand Box Cake
I'm looking for the recipe that is a lot like a wacky cake, but you mix it all in the pan you are going to cook it in. Thanks.
The Hillbilly Housewife Recommends:  Secret Restaurant Recipes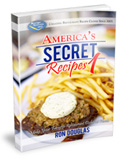 Don't spend a fortune going out to eat. Instead enjoy some of your favorite restaurant fare at home for a fraction of the cost.
These recipes are also perfect for dinner parties or a fun and special family dinner.
Get your copy today at:
Disclosure: Some of the links below are affilate links, meaning, at no additional cost to you, I will earn a commission if you click through and make a purchase.