Roasted Red Pepper Tomato Soup
Here is another delicious tomato recipe for you. It combines the flavors of summer ripe tomatoes and roasted red peppers. The end result is a complex but balanced soup that will quickly become a family favorite. I like to serve this soup with some crusty homemade bread like this breadmaker french bread.
Roasted Red Pepper Tomato Soup
5 red bell peppers
4 tomatoes
2 red onions
2 cloves of garlic (or a good dash of garlic powder)
1 tbsp olive oil
4 cups homemade chicken stock (or water and some chicken bullion)
Salt and Pepper to taste
Star by roasting your red peppers. Cut each pepper in half and remove the seeds. Cover a cookie sheet with aluminum foil and put your pepper halves skin side up on the baking sheet. Broil them for a few minutes until the skin is charred. Take them out and scoop them into a bowl. Add a plate over the bowl and allow the peppers to cool down a bit.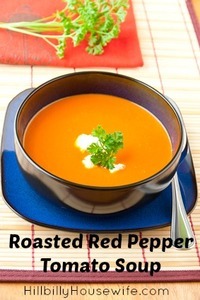 While the peppers are cooling down, let's prepare the tomatoes. We need to get the skin off and remove the seeds. Bring some water to a boil in a large pot.  Prepare a bowl of ice water for the tomatoes. Add the tomatoes to the boiling water for 30 seconds, then scoop them out and plop them into the ice water. This will stop the cooking process and makes it easy to remove the skin. When the tomatoes are cool, take them out of the ice water bath and cut them into quarters. The skin will slip right off. Cut out the seeds and discard those. Chop the tomatoes.
By now the peppers should be cool enough to handle. Remove the skin and give the pepper "flesh" a rough chop as well. While you are at it, go ahead and chop your onion and garlic as well.
With all the prep work done, it's time to start cooking. Get out a medium sauce pan and add the olive oil to it. Put it on medium heat and cook the onions and garlic in it until they are fragrant and start to turn translucent. Add the tomatoes and cook for another 5 minutes.
Add the roasted red peppers and the chicken broth. Cook it for a few more minutes or until everything is heated through.
Now it's time to blend the soup together. You can either use an immersion blender, or add it to your regular blender in small batches. Reheat as needed and serve hot with some crusty bread.
Disclosure: Some of the links below are affilate links, meaning, at no additional cost to you, I will earn a commission if you click through and make a purchase.