Roasted Brussel Sprouts With Bacon
Disclosure: Some of the links below are affilate links, meaning, at no additional cost to you, I will earn a commission if you click through and make a purchase.
Ready for a fresh take on Holiday vegetables? Here's a recent favorite. I've been cooking this all fall and look forward to a new addition to the Thanksgiving table this week. If you like brussel sprouts and bacon, this is a great recipe to try. The recipe is from "A Fresh Take On Thanksgiving", my latest HBHW cookbook.
Roasted Brussel Sprouts With Bacon
Ingredients
1 pound Brussels sprouts
2 tablespoons olive oil
Kosher salt and pepper
4 slices of bacon
Instructions
Preheat your oven to 400F.
Clean and trim your Brussels sprouts. Cut larger sprouts in half if needed. In a large bowl, toss the sprouts with olive oil, salt and pepper. Spread them out on a large baking sheet.
Dice the uncooked bacon and sprinkle it over your sprouts.
Bake the sprouts for 30 minutes or until they are tender and start to brown just a bit around the edges.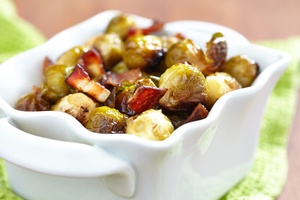 Ready for something a little different, a little fresher and a little lighter for Thanksgiving this year? You'll find recipes including:
Cheesy Mashed Cauliflower
A Lighter Take On Stuffing
Roasted Brussel Sprouts with Bacon
Green Bean Casserole with Fresh Fried Onions
Creamy Cole Slaw
Turkey Gravy
Mushroom Gravy (gluten free and vegan)
Sage and Butternut Squash Soup
Thanksgiving Quiche – perfect for leftovers
Get your copy today at:
http://hillbillyhousewife.com/ebooks/freshtg.htm