Repurposing Hotel Shower Caps for Bowl Covers
I routinely stash hotel soaps, shampoo, and shower caps in my luggage. While I have always found obvious uses for the soap and shampoo, it wasn't until recently that I learned from one of my girlfriends that the shower caps make good bowl storage lids, very like the ones sold by a well-known company. This was news to me; they work well and can be wiped off with a damp cloth; and they now have a useful purpose in my kitchen!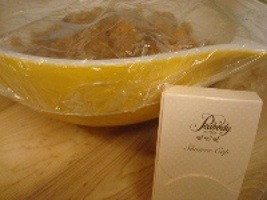 Disclosure: Some of the links below are affilate links, meaning, at no additional cost to you, I will earn a commission if you click through and make a purchase.