Removing Stuck-On Egg – Frugal Tip
I had fun making the egg muffin cups I shared earlier today. By far the hardest part was cleaning the muffin tin after. To be honest, it was mostly my own fault. I didn't get it cleaned up right away. Instead I let the pan sit on the counter until the egg residue was well caked on. I soaked it and started scrubbing with little luck.
I remembered an old trick my grandmother shared with me. She would make an egg based casserole and if the dish was too hard to clean, she'd soak it in some hot water with a good splash of white vinegar. I gave it a try and the rest of the cleanup was a breeze. It lifted the egg residue right off.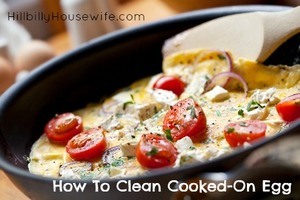 Disclosure: Some of the links below are affilate links, meaning, at no additional cost to you, I will earn a commission if you click through and make a purchase.