Homemade Refried Beans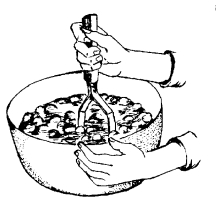 Cooked Pinto Beans (or other beans, see note below)
Fat for frying (margarine, oil, shortening, lard, bacon grease etc.)
You can use any amount of beans to make this recipe. The best way I've found is to make a double batch of My Best Pinto Beans. On the first day have the beans in large bowls with onions and cornbread. On the second day, reheat the beans and "fry" them. Serve on homemade tortillas or as an accompaniment to Mexican Style Rice.
To prepare the beans, take them cold from the fridge. If they are very juicy, then drain off some of the juice. If they are not very juicy, then don't worry about it. Place the beans in their pot on the stove. Use a potato masher to mash them while they heat. You do not need to get them smooth. Just turn most of them to mush. As the beans heat they will thicken and bubble. Add a little bit of fat to give them flavor and to keep them from sticking to the bottom of the pot. If they already some fat in them, then you don't need any more. Simmer the beans over medium heat until they are thick enough to spoon out. They won't be as thick as canned refried beans. Canned refried beans are thicker than they should be. If you ever reheat canned refried beans, then add about 1/4-cup of water and 1 or 2 tablespoons of fat to beans and they will taste a lot better.
When the beans are thick and hot, they are done. Some people like their beans topped with cheese. If you don't have any cheese, then they are excellent served with a topping of sliced onions that have been fried in a little margarine or bacon grease. Hot sauce or salsa are good if you like your beans spicy.
NOTE: If you don't have pinto beans, don't worry. Other dried beans can be used instead. Kidney beans, black beans, and pink beans all make great refried beans.
How about another great bean side dish? Try baked beans with tomato next. Of course there are plenty of other easy bean recipes here.
Disclosure: Some of the links below are affilate links, meaning, at no additional cost to you, I will earn a commission if you click through and make a purchase.