Red Wagon Butter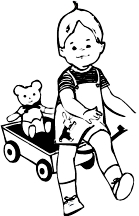 1/2 cup margarine
1/2 cup nutritional yeast
Melt the margarine in the microwave or on top of the stove. Stir in the yeast. Microwave or continue cooking on the stove until the mixture is bubbly and slightly thickened. My microwave does this in about 30 seconds. Stir again and spread on fresh baked bread or toast.
The best way to eat this butter is to have it thickly spread on a folded over sandwich in each hand, a bottle of juice between your feet, and to have a loved one pulling you down a country road in your red wagon. Fall is the traditional time to enjoy this scenario, but other seasons work as well. In case of snowy conditions, a sled may replace the wagon. In case a country road is not available, city sidewalks make a good substitute.
Disclosure: Some of the links below are affilate links, meaning, at no additional cost to you, I will earn a commission if you click through and make a purchase.