Quick Cinnamon Rolls
3-1/4 cups Biscuit Mix (homemade is fine)
1 cup milk
1/3 cup softened margarine
1/2 cup brown sugar or Sucanat
1 teaspoon cinnamon
1/2 cup finely chopped nuts, optional
In a large bowl combine the biscuit mix and milk. Mix the milk and biscuit mix together until you have a soft dough. Turn the dough out onto a large sheet of waxed paper. Knead the dough gently for few second. Pat the dough into a rectangular shape. Using a rolling pin or a heavy jar or glass, roll the dough out so that it is about half an inch thick. Try to keep it in a rectangular shape as you roll it out, this is a little challenging at first, but becomes very easy with practice.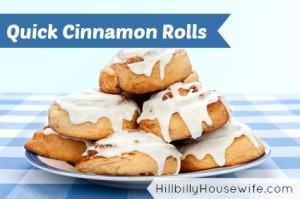 Spread the margarine over the dough like spreading peanut butter on bread. Sprinkle on the brown sugar, breaking up any large lumps as you come across them. Scatter the cinnamon over the brown sugar. If you are using nuts, then sprinkle them on now too.
Now comes the part that takes a little skill. Lift up one side of the waxed paper and use it to help you roll up the dough like a jellyroll, with the filling on the inside of the roll. Pull back the waxed paper as you go so it doesn't get inadvertently wrapped up in the roll. When the roll is nicely formed, use a sharp knife to cut it into about a dozen slices. I cut in the center first and then I cut each half in half again, making even quarters. Each quarter is then divided into 3 or 4 slices depending on how thick I want my cinnamon rolls to be. I prefer the rolls thicker rather than thinner.
Arrange the cinnamon rolls in well-greased muffin cups, or side by side in a well-greased 9 by 13-inch rectangular pan. If desired, squirt a little Pancake Syrup in the center of each cinnamon roll for flavor and stickiness. Bake the rolls at 400° for about 20 minutes. Remove from the oven and allow to cool for at least 15 minutes before eating. You may be tempted to eat them sooner, but if you do, you will burn the inside of your mouth. These are also good cold, and make good lunch box desserts.
Disclosure: Some of the links below are affilate links, meaning, at no additional cost to you, I will earn a commission if you click through and make a purchase.