Quick and Easy Pizza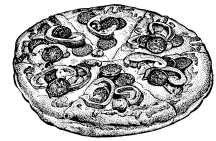 For the Crust
2-1/2 cups flour
2 teaspoons baking powder
1 teaspoon salt
1 teaspoon dry yeast
3/4 cup water
1/4 cup oil
For the Sauce
8 ounce can of tomato sauce
1 teaspoon Italian Seasoning OR 1/2 teaspoon basil & 1/4 teaspoon oregano
1/4 teaspoon garlic powder
1  teaspoon EACH sugar & onion powder
1 tablespoon oil for flavoring (optional)
Toppings of Choice
Cheese, Meat, TVP, Veggies, Fruit etc.
First prepare the crust. In a medium sized bowl combine the flour, baking powder, salt and yeast. Stir it up to distribute the salt and yeast evenly. Add the water and oil. You may need a spoonful or two more of water if the day is dry. Mix the dough with a wooden spoon until it forms a big ball in the middle of the bowl. It will be a little stiffer than biscuit dough. Knead the dough about 10 or 12 times and then form it into a ball. Place the ball in the center of 16-inch pizza pan, or a 9 by 13-inch rectangular pan. Use your hands and a rolling pin, to press the dough into the pan. I find a rolling pin most effective in this effort. The dough will be a medium thickness. Allow it to rest while you prepare the Sauce.
In a large cereal bowl combine the tomato sauce, Italian Seasoning (or basil and oregano), garlic powder, sugar, onion powder and oil. Mix it well and spread it on the pizza crust. If desired, you may substitute canned or prepared Spaghetti Sauce for this sauce.
After spreading the sauce onto the pizza crust, top it with about 2 cups of shredded mozzarella and a good sprinkling of Parmesan Cheese. If desired, add other toppings of your choice. I usually make plain cheese pizzas because they are the most popular at my house, and also the least expensive. Bake the prepared pizza at 400° for about 15 to 20 minutes. Eat and enjoy. This amount will feed 4 children under 10 years of age, or 2 starving people over 10 years of age.
I developed this recipe as a substitute for Frozen Pizza. I tried making it with regular biscuit dough for the crust, but it never tasted quite as good as I wanted it to. So then I added the yeast, and used a little less baking powder which improved the crust considerably. Finally I figured out that water was better in it than milk, and that oil was faster to mix into the flour than solid shortening was. Viola! Success! This crust is easy to work with, cooperates with the rolling pin, rises just enough as it bakes, and requires no pre-baking. It also mixes up very quickly, and tastes enough like real pizza crust to satisfy the kids, especially when they just want a quick pizza for lunch. Assuming you use pre-shredded cheese, the whole thing takes less than 15 minutes to put together once you get the hang of it. Total cost is about $1.75. This homemade version is comparable to the $6 frozen Gourmet Pizzas with "Self-Rising Crusts". The texture isn't exactly the same, but it is similar, and very good.
Disclosure: Some of the links below are affilate links, meaning, at no additional cost to you, I will earn a commission if you click through and make a purchase.