Quiche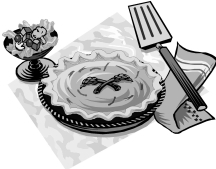 1 unbaked Pie Crust
1-1/3 cups milk or 1 can evaporated milk
3 or 4 medium eggs
1/4 teaspoon salt
Dash each pepper and nutmeg
1/2 to 1 cup shredded cheese
1/2 cup of reconstituted TVP or cooked meat and/or 1 cup of cooked vegetables(see the recipe)
First prepare your pie crust and fit it into a 9-inch pie plate. Get out a big bowl and a whisk. Pour the milk into the bowl. You can use reconstituted powdered milk, or a large can of evaporated milk. The evaporated milk makes a very rich filling, good for company, or potlucks. Crack the eggs into the bowl with the milk. Use 3 or 4 depending on their size and your wealth in eggs. Usually I just use three. Whisk the eggs and milk together until they are good and smooth. Add the salt, nutmeg and pepper and whisk again. The nutmeg is traditional, but optional. I believe quiche doesn't really taste the way it should without the nutmeg, but this is my personal philosophy, and you may feel differently. Let your taste be your guide. Next you need to sprinkle your filling into the bottom of the unbaked pie crust.
For filling you can use whatever leftovers you have in the fridge. For a classic Quiche Lorraine, use 1/3 to 1/2-cup of bacon bits and a cup of Swiss cheese. But this is just a starting place. Use any cheese you have in the fridge. Older cheese which needs to be used up is good in a quiche. Cheddar or even mozzarella also work quite nicely.
Half-cup of reconstituted chicken TVP is good with a cup of broccoli. Ham or sausage is good alone, or combined with a cup of steamed cabbage. Zucchini is good with mozzarella cheese, especially if you serve a well seasoned tomato sauce with the quiche. Thawed and well drained (actually squeeze it with your hands) frozen spinach is good with 1/3 cup of grated Parmesan or a little more Swiss cheese. Peas and carrots are good with cheddar cheese. Cooked beef can be used with cooked green beans, this is pretty tasty with good old cheddar. Just use your imagination, and clean out the fridge.
So scatter the fillings of your choice, along with the cheese, into the bottom of your pie crust. Then carefully pour in the milk and egg mixture. Pat the cheese down into the egg mixture if need be. Bake the pie at 375° for about 45 minutes. It should be puffed and golden brown on top. Makes 8 wedges. Serve with carrot raisin salad and pineapple upside down cake.
The basic formula is this: 1/2 to 1-cup of cheese, plus up to 1/2-cup prepared veggie-meat (TVP, wheat-meat, canned veggie-meats, etc) or cooked real meat and/or up to 1 cup of cooked vegetables. You must have cheese, and then you add a vegetable or meat or both, according to whatever you have on hand. Scatter the cheese and filling in the bottom of the crust, add the custard, and bake. By the way, if you use onions as your vegetable, sautè them first in a little margarine or oil so they are tender and fragrant. Onion is good with Swiss cheese, or cheddar.
Disclosure: Some of the links below are affilate links, meaning, at no additional cost to you, I will earn a commission if you click through and make a purchase.