Pumpkin Pie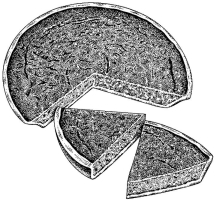 1 unbaked 9-inch Pie Crust (half the recipe; see note below)
16 ounce can pumpkin (or 2 cups of cooked, mashed pumpkin flesh)
3 medium eggs
1 cup brown sugar
1/2 teaspoon salt
1 teaspoon cinnamon
1/4 teaspoon each ground cloves, nutmeg and ginger
1 cup milk
First prepare the crust according to the recipe for Easy Pie Crust. You will only need half of the recipe. You can freeze the other half, or go ahead and make two pies (in which case, double this recipe). After you have lined the pie plate with the rolled out crust, you can start to prepare the filling. Open up the canned pumpkin and scrape the contents into a big bowl. Crack in the eggs. Measure in the sugar, salt, spices and milk. Beat very well. I use a whisk, but a fork could work if you were diligent. The batter may seem a little thin, that's alright. Gently pour the filling into the unbaked crust. If you have too much filling, you can pour the rest into oiled muffin cups and make pumpkin custard. Fill the crust almost to the top of the crust. Place the pie in the oven. Bake at 450° for ten minutes. Reduce the heat to 350° and bake for 45 minutes. When the pie is done, it will be slightly puffed around the edges, and seem firm when you jiggle the pie on the oven rack. Poke a knife off center to be sure. If it comes out clean, the pie is done. Remove it from the oven and let it sit a while to cool down. My favorite way to serve this is when it is still warm from the oven, with a nice scoop of ice cream, or Whipped Topping. Heavenly. High in Vitamin A too because of the pumpkin. Serve with a skimpy main dish to make sure the family is full. Makes 8 slices.
Note: The pie crust is optional in this recipe. I often bake the filling in a pie plate, or a cake pan without using a pie shell at all. This is called Pumpkin Custard. It tastes the same as pumpkin pie, but is a bit healthier because you don't have the added fat and calories of the traditional pie crust. Personally I believe I like it better with the crust, but let your time limit and waist line be your guide.
Disclosure: Some of the links below are affilate links, meaning, at no additional cost to you, I will earn a commission if you click through and make a purchase.