Pumpkin Bars
My daughter's Christmas party is later this coming week. I've been thinking about what to make to send in and have come up with these yummy pumpkin bars. They're tasty, festive and not all that bad for you. Plus it's easy to cut them into smaller or larger squares depending on how many people you're serving.
Pumpkin Bars
Ingredients
2 C. Sugar
2 C. Bisquick
1 Can Pumpkin
1/2 C. Oil
4 Eggs
1/4 C. Raisins
2 t. Cinnamon
1/2 C. Pecans (opt.)
4 oz. Cream Cheese
1 t. Vanilla
2 C. Powdered Sugar
3/4 Stick of Margarine
Instructions
In a mixing bowl, mix pumpkin, sugar and oil together with a hand mixer on medium speed for roughly 4 minutes.
Gradually add the Bisquick, raisins and cinnamon to the mixture (it will have lumps in it), set aside.
Prepare a jellyroll pan and pour the batter in it.
Bake for 20 minutes at 350 degrees. Allow to cool before serving.
[b]For Frosting[/b]
Mix the cream cheese together with the vanilla and margarine until the mixture is smooth.
Gradually add the powdered sugar, beating until smooth.
Spread frosting out on the warm pumpkin bars and top with pecans.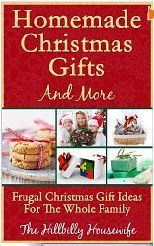 Would you like to steer clear of the holiday shopping crowds? You can with this guide to Homemade Christmas Gifts and More.
Making Homemade Christmas gifts is one way to actually enjoy the process of gift-giving. Not only are homemade gifts and decorations frugal, they're more fun!
We don't have to rush out to the mall to shop for Christmas when we have ideas for creating gifts right at home. Take time to enjoy your holiday season. Click on and download now to start planning your frugal AND fun Christmas.
www.hillbillyhousewife.com/christmasbook
Disclosure: Some of the links below are affilate links, meaning, at no additional cost to you, I will earn a commission if you click through and make a purchase.