Pumpkin and Leek Soup
I've made potato and leak soup for years but thought I'd try making it with pumpkin instead. I don't cook very much with it, except in the weeks before and after Thanksgiving. I guess just seeing pumpkins everywhere inspires me to cook with them. The leak in this soup adds just enough mild "oniony" flavor to make it absolutely delicious. Served with some hardy bread it makes a wonderful dinner for a cold day.
Pumpkin and Leek Soup
Ingredients
2 Leeks sliced and rinsed
2 Celery Stalks, Sliced
1 Garlic Clove, Chopped
1 T. Olive Oil
1 15 oz Can Pumpkin Puree
1 1/2 lb. Butternut Squash, peeled and cubed
6 C. Chicken Broth
1 T. Fresh Rosemary
Salt and Pepper to Taste
Instructions
In a large saucepan, heat the olive oil over medium heat.
Add Celery, Leeks and Garlic Clove to the mixture. Stir often for about 5 minutes or until soft.
Slowly add the butternut squash and pumpkin puree. Stir well and add the chicken broth.
Cover and simmer for approximately 25 minutes, until the pumpkin is soft and tender. Then add roughly ¼ teaspoon of pepper and 1 3/4 teaspoons of salt.
Slowly, ladle part of the soup into a blender, pureeing until completely smooth. You may need to do this in batches. Serve in small bowls and top with rosemary for additional flavor.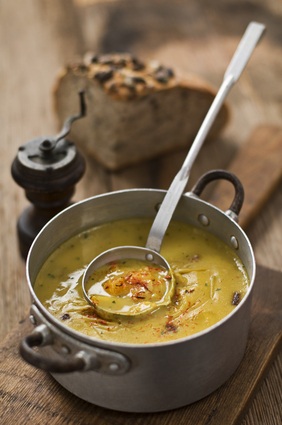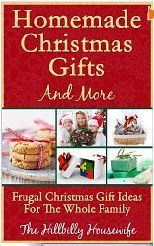 Would you like to steer clear of the holiday shopping crowds? You can with this guide to Homemade Christmas Gifts and More.
Making Homemade Christmas gifts is one way to actually enjoy the process of gift-giving. Not only are homemade gifts and decorations frugal, they're more fun!
We don't have to rush out to the mall to shop for Christmas when we have ideas for creating gifts right at home. Take time to enjoy your holiday season. Click on and download now to start planning your frugal AND fun Christmas.
www.hillbillyhousewife.com/christmasbook
Disclosure: Some of the links below are affilate links, meaning, at no additional cost to you, I will earn a commission if you click through and make a purchase.