Preparing And Freezing Hamburger, Sausage, And Bacon For Quick Dishes
The following are some tips by a HBHW reader. I've formatted them a bit for easy reading. They are great tips for preparing ground beef, sausage and bacon as soon as you get home from the store. Use them as a starting point for soups, sauces, casseroles and all sorts of other recipes that call for a cooked meat. This will greatly reduce your cooking time when it comes to making dinner during a busy week.
Ground Beef:
Boil the meat (approx. 20 minutes) and rinse the fat off.
Editorial Note: This is done with more inexpensive ground beef that has a higher fat content. You can read more about lowering the fat content of ground beef here. I personally fry the ground beef instead of boiling it. 
Pack up in quart sized freezer bags making 1 pound packages. If you flatten the packages you can stack them in the freezer. These are are great for using for taco meat, hamburger helper type dishes or anything that uses ground, loose ground beef.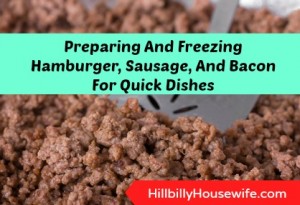 Sausage:
Using 5 pound of bulk sausage, boil the meat (approx. 20 minutes) and rinse the fat off. Finish by panfrying until browned and thorougly cooked. Pack up in gallon sized freezer bags for all 5 pounds or into smaller quart sized freezer bag for the 1 pound size. These are great for any recipe using cooked sausage meat like spaghetti or sausage gravy. Note: boiling helps get rid of some of the fat.
Bacon:
You can half-cook 3-5 pounds of bacon at a time but frying it in a skillet until it's just limp. Drain on several thicknesses of paper towel. Once cooled you can roll up the bacon in the paper towel and place it inside gallon sized freezer bags for future use. When you're ready to use it you just pull the desired portion of of the freezer bag and microwave it for 30-60 seconds or until you achieve your desired level of crispiness.
You can also refrigerate or freeze the bacon grease for use in later cooking/flavoring.
Disclosure: Some of the links below are affilate links, meaning, at no additional cost to you, I will earn a commission if you click through and make a purchase.