Potato Salad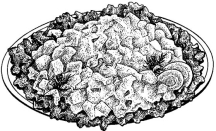 5 or 6 medium potatoes, peeled, and chopped into small cubes
tap water for boiling plus 1 teaspoon salt
2 stalks celery, chopped or 1/2 a green pepper, finely chopped
1/2 a small onion, minced
1/3 to 1/2 cup of sweet pickles, chopped
1/2 cup mayonnaise
First peel and cube your potatoes. While you are doing that, put a pot of salted tap water on to boil. When it boils, add the cubed potatoes. Boil the potatoes for no more that 15 minutes. Set the timer, fix it strongly in your mind. Over cooking is the destroyer of this dish. While the potatoes boil, chop your celery (or green pepper), onion and sweet pickles. You can use sour pickles if you prefer, it's really a matter of taste. In a large bowl combine the chopped celery, onion, pickles and mayonnaise. Set the bowl aside.
When the timer dings, drain the potatoes immediately. Run cold tap water over the potatoes until they are cool to the touch. Drain for a few minutes to dry them out well. Dump the potatoes into the bowl with the mayonnaise and chopped vegetables. Stir gently to cover everything evenly with the mayonnaise. Transfer the potato salad to a resealable container, or cover it with plastic wrap. Chill for at least an hour, or until serving time. Makes 6 servings.
Disclosure: Some of the links below are affilate links, meaning, at no additional cost to you, I will earn a commission if you click through and make a purchase.