Potato Pancakes
I love potato pancakes. My mom would make to go alongside a nice bowl of vegetable soup. I also like them as a snack with a little homemade apple sauce on the side. As you can see in the recipe, it doesn't take much to make these. It's just potatoes, flour, egg and salt. Fry it all up and enjoy hot.
In the summer time I like to replace half the potato with shredded zucchini or yellow squash.
Potato Pancakes
Ingredients
2 cups shredded raw potatoes
2 large eggs
3/4 teaspoon salt
2 tablespoons whole wheat flour
Olive or peanut oil for frying
Instructions
First shred the potatoes in a food processor or on a cheese grater. Place the shredded potatoes in a medium sized bowl and cover them with cold water. Chill the bowl in the fridge for at least 30 minutes, or even overnight if you prefer. Sometimes when I'm in a hurry I put them in the freezer for about 15 minutes. After soaking and chilling, drain the potatoes very well, squeezing out the excess moisture with your hands.
In a medium bowl, combine the drained potatoes, eggs, salt and flour. Mix it all up with a fork, until it is well combined. Heat about 2 tablespoons of oil in a large skillet over medium high heat. When it is hot, drop in spoonfuls of the potatoes. Try to keep them kind of small, maybe the size of hamburger patties. Fry them until they are golden brown underneath. Flip them and brown the other side too. Transfer the cooked pancakes to a plate and serve.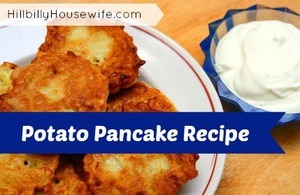 I like them with applesauce, but they are good with ketchup too. The kids treat them like Mc Donald's hash browns, and eat them as a portable breakfast. You could add a little dried onion with the flour if you liked, maybe 2 teaspoonfuls. This recipe is easily doubled if you are serving a large crowd or your family is very hungry. This is good for breakfast, but also makes a nice main dish for lunch.
Disclosure: Some of the links below are affilate links, meaning, at no additional cost to you, I will earn a commission if you click through and make a purchase.