Pork Marinara Pasta Casserole
Everything is better with a nice Marinara sauce. This pasta casserole is the perfect example. The sauce cooks the noodles and pork and the end result is a baking dish full of Italian yumminess. (Yes, I know that's not really a word 😉 ) As a mom, I like the fact that I can "hide" plenty of zucchini and bell peppers in this dish and my family to eat more veggies while serving their favorite pasta. Since there is no need to pre-cook the pasta or pork, this goes together quickly and bakes in the oven while I go about some other nightly chores. From The Casseroles Made Simple cookbook http://www.hillbillyhousewife.com/ebooks/casserole.htm
Pork Marinara Pasta Casserole
Prep time:
Cook time:
Total time:
Ingredients
3 cups pasta (rotini or penne)
1 tsp olive oil
2/3 cup water
1 lb. ground pork
1 large egg, lightly beaten
1/2 Cup bread crumbs
1/2 tsp salt
1/4 tsp pepper
1 jar (24 oz) marinara sauce, divided
3 carrots, sliced
1 small zucchini, halved lengthwise, sliced
1 yellow bell pepper, cleaned, cut into strips
Instructions
Preheat oven to 375 degrees, lightly coat a heavy casserole with oil or grease.
Place the pasta into the casserole and drizzle with the olive oil.
Pour the water into the pan and stir to mix in the pasta well.
In a separate bowl, put the ground pork and add the egg, bread crumbs, salt, and pepper and mix until well blended.
Shape the meat mixture into meatballs and arrange them evenly in the casserole.
Pour 1/2 jar of marinara sauce into the casserole evenly over meatballs.
Layer the carrots, zucchini and bell pepper strips into the casserole, then pour the remaining 1/2 of the marinara sauce over the vegetables.
Cover the casserole and bake 45 to 55 minutes or until the vegetables are fork tender.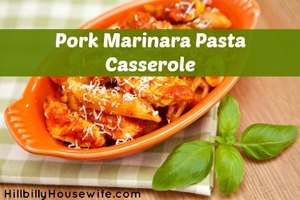 Disclosure: Some of the links below are affilate links, meaning, at no additional cost to you, I will earn a commission if you click through and make a purchase.