Planting For Spring – Frugal Tips
We've started getting our garden beds and containers ready for spring gardening. This is our second year of "serious" gardening, meaning we're working on growing a fair portion of our veggies in the garden, not just playing around with a few container plants. Last year we ended up spending a fair amount of money. This year our challenge is to keep it as frugal as possible and we have some great tips to share. I say "we", because truth be told, my husband is the one with the green thumb who does most of the actual gardening. Grow From Seeds Buying plants, particularly tomato plants put a big dent in our gardening budget last year. This year we're growing almost everything from seed. Look through seed catalogs and on Ebay for seeds. We were able to get a large lot of heirloom seeds for a few dollars and have grown most of our seedlings from those. You can also find plenty of seed packets this time of the year in garden centers and even grocery stores. Don't forget to save seeds from your favorite plants toward the end of this year's gardening season. We dry them, wrap them in paper and store them in an old CD case. Keep Planted Seeds Warm With a Cooler and a Bottle Of Hot Water Once the seeds are planted, the soil needs to be kept fairly warm (warmer than we keep our house during the cooler months). We looked at several different options (heating mats, heating lamps etc.), when I remembered my favorite yogurt making technique. We got out our large cooler out and put the containers with soil and seed in there along with a bottle filled with very warm water. We monitored the temperature with a small thermometer that usually hangs in my kitchen and changed out the water bottle in the mornings and evenings. Once the plants started to emerge, we moved the container to a sunny window spot and got the next batch of seeds started in the cooler. Use The Soil You Have, Only Supplementing if Needed Going out and buying potting soil for several large raised garden beds can get pretty expensive. Instead, use what you have and only supplement if needed. We kept all soil from last year and mixed it with what's already in our yard and some compost. We will supplement with a little peat moss and mushroom compost from the garden center if needed. Even if you have to buy soil, mix it with whatever you have in your yard. You'll end up needing a lot less this way and save big. Get Creative With Container Gardening Since we don't have a lot of space to garden in the soil at the moment, we do a lot of container gardening. Buying planters can get pricey as well. Instead we started looking at what we already had. There were a few larger pots, but also some buckets and the likes. We got some large plastic drums from a kind neighbor and cut them in half for two very large containers. Last but not least we took a little trip to the dollar store and found some great buckets with handles that were meant for carrying drinks and the likes and used them as planters. Even large canvas bags from the store will work as planters. Grow What You Eat Last but not least, think about what you like to eat in the summer and fall. Focus on growing the veggies you end up eating the most. Yes, tomatoes are easy to grow, but if you're not a fan, there's no reason to invest a lot of time and effort into growing them.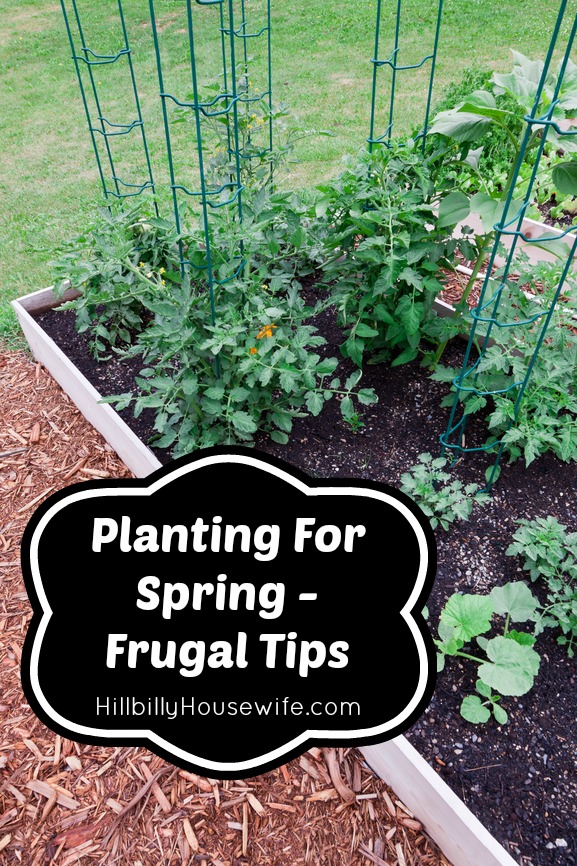 Disclosure: Some of the links below are affilate links, meaning, at no additional cost to you, I will earn a commission if you click through and make a purchase.