Plan Crockpot Meals For Busy Days – Frugal Tip
If you had to guess, how much extra money do you spend on take out or convenience meals picked up at the grocery store last minute because your day just got away from you? With fall here, after-school activities seem to pick up and I quite often find myself home just before dinner with no cooking done yet. Sure, you can whip up some scrambled eggs and toast or cook some plain spaghetti in a pinch, but I'm finding I can create much better and more versatile meals for my family with the help of my crockpot. All it takes is a little bit of planning ahead.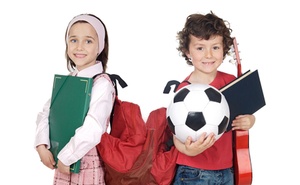 On the weekend, take a look at what your coming week looks like. You'll know what days will be busy. Dig out the crockpot and come up with some meal ideas for those days. Soups and stews are simple to do and you'll find plenty of crockpot recipes here on the HBHW website. Pick a couple of recipes, find out what you need from the grocery store and make a plan to get them started before you head out for your busy day.
To make it even easier, my friend Tracy has put together an ebook with 30 crockpot recipes complete with shopping lists and meal plans. Take a look:
Ready to learn how to get a homemade dinner on the table and still have time to tackle everything on your to do list?

Slow Cooking Recipes for the Busy Mom ebook gives you 30 days of recipes for your crockpot plus shopping lists to make sure you have everything you need on hand for quick & easy stress-free meal planning.

There's even a private Facebook group where we'll be challenging each other to create delicious meals (and share the recipes).

Click now  and order your copy of Slow Cooking Recipes for the Busy Mom: Quick & Easy, Stress-Free Meal Options today!
Disclosure: Some of the links below are affilate links, meaning, at no additional cost to you, I will earn a commission if you click through and make a purchase.