Pineapple Graham Cracker Cake
I lost a recipe for the cake that was made with crushed graham cracker crumbs instead of flour and it had a pineapple topping. It may have been called Pineapple graham cracker cake or something along those lines. 

Taniesha
Do you have some suggestions for Taniesha?
From The Hillbilly Housewife
I have a recipe for a pineapple pie in a graham cracker crust. I'm not sure if that's close to what you're looking for since it's not a cake, but it is very tasty.
Pineapple Pie
Ingredients
2 graham cracker pie crusts
1 (16 ounce) containers whipped topping
2 (8 ounce) packages cream cheese
2 cups sugar
1 (20 ounce) cans crushed pineapple
Instructions
Combine the cream cheese and sugar in a large bowl. Fold in the whipped topping.
Drain the pineapple really well. Discard the juice and fold the pineapple bits into the cream cheese mixture.
Pour the filling into the prepared graham cracker crusts and refrigerate for two hours before serving. Top with crushed pecans, almond slivers or more crushed pineapple.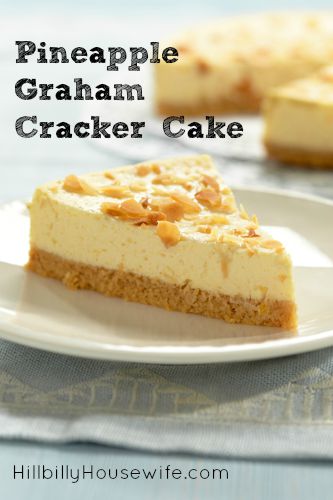 Disclosure: Some of the links below are affilate links, meaning, at no additional cost to you, I will earn a commission if you click through and make a purchase.