Perfect Brown Rice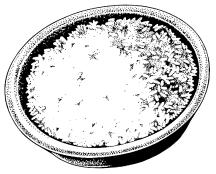 2 cups hot water
1 cup dry long-grain brown rice
You need a pot with a good lid for this recipe. Put the water into the pot and bring it to a boil over high heat. Add 1/4 to 1/2-teaspoon of salt if desired. When the water is at a full rolling boil, add the rice. Stir it up and return the water to a boil. Now reduce the heat to the lowest possible. Put the lid onto the pot and let it sit for 45 minutes. Do not peak! The rice will cook; you have to trust it. When the time is up, remove the lid and serve. Easy as pie, Perfect Brown Rice. This makes enough for 4 servings, or about 3 cups.
This recipe is easily doubled. In this case use 4 cups hot water and 2 cups of brown rice. Prepare just as directed. This makes enough for about 8 people, or it will serve 4 to 6 with leftovers.
Brown rice is what white rice used to be, before it was stripped of all of it's nutrition and dignity by modern man. Brown rice is higher in vitamins, minerals, protein and soluble fiber than white rice. It takes longer to cook because it still has it's outer hull or bran intact. Brown rice can be frozen once it is cooked, so you could keep some in the freezer for quick meals. Brown rice tastes almost the same as white rice. When it cooks it lightens up considerably too. Brown rice can be used almost anywhere that white rice is called for. Cooking times may need to be adjusted somewhat, but otherwise cooking results will be very similar.
Disclosure: Some of the links below are affilate links, meaning, at no additional cost to you, I will earn a commission if you click through and make a purchase.