Peanut Butter, Chocolate Chips and More Cookies
When you're making cookies it's so hard to decide between all the different options. Should it be peanut butter cookies, oatmeal ones, some with chocolate chip etc. Instead of baking all sorts of different cookies, why not have some fun and make these "Monster" cookies instead. They have a little bit of everything and by using refrigerated cookie dough, they are quick and easy to make, even during the busy holiday season. Make a batch of these with the kids. Not only will they have fun making the cookies, they'll love the end result as well.
Monster Christmas Cookies
Ingredients
1 1/3 C. Peanut Butter
1 C. Quick Cooking Oats
4 T. Vegetable Oil
2 Eggs
1 32 oz. Roll Refrigerated Chocolate Chip Cookies
1/3 C. Mini Candy-Coated Baking Bits
1/3 C. Raisins
Dried Cranberries to Taste
Peanut Butter Chips to Taste
Instructions
Preheat oven to 350 degrees.
Combine peanut butter, oats, oil and eggs in a large bowl. Next, add cookie dough gradually. Mix well.
Stir in remaining ingredients until well blended.
On an ungreased baking sheet, drop dough approximately 2 inches apart.
Bake for roughly 13-15 minutes. Be sure not to over bake.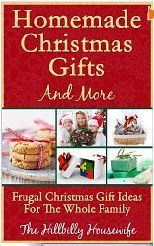 Would you like to steer clear of the holiday shopping crowds? You can with this guide to Homemade Christmas Gifts and More.
Making Homemade Christmas gifts is one way to actually enjoy the process of gift-giving. Not only are homemade gifts and decorations frugal, they're more fun!
We don't have to rush out to the mall to shop for Christmas when we have ideas for creating gifts right at home. Take time to enjoy your holiday season. Click on and download now to start planning your frugal AND fun Christmas.
www.hillbillyhousewife.com/christmasbook
Disclosure: Some of the links below are affilate links, meaning, at no additional cost to you, I will earn a commission if you click through and make a purchase.