Microwave Peanut Brittle Recipe
1 C sugar
1 C salted peanuts
½ C light karo syrup
1 tablespoon butter
1 teaspoon vanilla
1 teaspoon baking soda
Put sugar & syrup in a 2 qt glass microwaveable bowl, stir. Microwave on high 5 minutes.
Remove & stir in peanuts. Microwave on high for 1½ minutes, remove & stir.
Microwave for another 1½ minutes. Remove & add butter, vanilla & baking soda, stir
until foamy. Pure onto buttered cookie sheet and spread out the best you can. After
cooled, break into pieces, store in air tight container.
I use glass jars to put the brittle in, trim the top with fabric and secure a ribbon around the jar top.
By HBHW reader B. A. Z.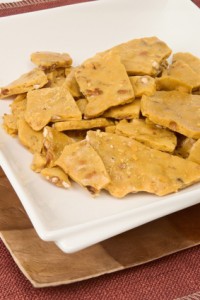 Disclosure: Some of the links below are affilate links, meaning, at no additional cost to you, I will earn a commission if you click through and make a purchase.