Peach Muffin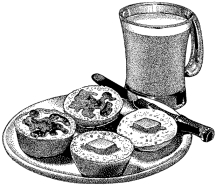 1/3 C plus 1 T olive oil
1 C sugar
2 eggs
1/2 tsp vanilla
1 1/4 C all purpose flour
2 T poppy seeds
1 tsp baking soda
1/4 tsp salt
1 (6 oz) jar of peach baby food (or make your own)
Preheat the oven to 350 degrees.
Prepare a muffin tin with paper cups.
Cream together the oil, sugar, egg and vanilla.
In a separate bowl mix well the flour, poppy seeds, baking soda and salt.
Place 1/3 of the flour mixture into the creamed mixture.
Add 1/3 of the baby food and mix well.
Continue with 1/3 of each mixing after each baby food addition until all is used.
Pour the batter into each of the paper cups.
Bake 22 minutes or until muffins indent slightly and bounce back when touched.
Give these muffins a little different taste by using a different fruit type baby food. They are moist and so wonderfully delicious.
Here are some tips on how to freeze these muffins. It's a great way to make them ahead of time and then just reheat and server.
Here's another wonderful freezer muffin recipe for you. This is for cornbread muffins. Make them ahead of time and then pull them out when you have soup, stew or chili for dinner.
Disclosure: Some of the links below are affilate links, meaning, at no additional cost to you, I will earn a commission if you click through and make a purchase.