Pantry Cooking – An Interview With Tracy Roberts
In last week's newsletter, I mentioned that my friend Tracy from Moms in a Blog is working on a new kindle book on pantry cooking. She was kind enough to share a recipe from the book then and it was so well received that I asked her to come back and share another this week. I also took a few minutes last night to do a quick little interview with her.
You're out with a new book on cooking from your pantry. Can you tell me a little bit about your process when it comes to getting dinner on the table?
I'm a pantser-I fly by the seat of my pants on most days. While I usually have a list of recipes in my head and the ingredients on hand to prepare it, I find myself thinking about dinner an hour or so before it's time to eat. The kids are familiar with "The Menu" so I'll ask for their input and we eat hat sounds good at the moment.
What's typically in your pantry?
I always hav
e things like dried beans, whole grain pasta, quinoa, canned tomatoes, canned peaches, canned pineapple, coconut milk, evaporated milk, coconut & almond flours, Hillbilly Housewife's Biscuit Mix, potatoes & onions.
I also try to keep chicken, ground beef, pork chops, bacon and fish on hand. I round everything out with our favorite spices and condiments.
One of my favorite things about pantry cooking is that I don't have to run to the store. Great for those busy days when I just don't want to run to the store. What other big benefits do you see in pantry cooking?
With the pantry items I have on hand, I can make virtually anything and know it's something my family will eat. If I decide I want something a little different I just experiments with what I have on hand.
In fact, just last night we had lettuce tacos (we're trying some new recipes) and decided that a peanut sauce would taste great with it so my daughter and I grabbed the peanut butter, soy sauce, some thai red curry powder & rice vinegar and proceeded to create a pretty good tasting sauce to go over our beef strips.
What are some of your family's favorite pantry meals? Maybe you could share a favorite recipe with us?
My family is happy with potato soup almost any night and my caribbean chicken recipe is a family favorite, too.
Happy, Happy Hamburger Gravy
Author:
Cook time:
Total time:
Ingredients
1-2 lbs ground beef
1-2 medium onions, chopped
1 can evaporated milk
[url href="http://www.hillbillyhousewife.com/biscuitmix.htm" target="_blank"]Hillbilly Housewife's Homemade Biscuit Mix[/url], to thicken
salt, pepper or your favorite spices
Water
Instructions
In a large pan, cook ground beef with onions until beef is browned and onions are soft. Add evaporated milk & spices. Add enough water to cover beef mixture. Add your Bisquick or corn starch – enough to thicken. Cook until warmed through and your gravy is as thick/thin as you desire.
We eat this over mashed potatoes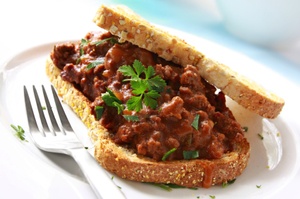 Any tips for someone that's very new to this approach to planning meals and making dinner? How do they get started?
Start with thinking about the things your family likes to eat and then notice the items that you always seem to have on your grocery list – those things that you just can't do without.
Let your creative juices flow. I don't think I ever make the same meal, the same way, more than once. I'm more of an experimenter so I'm not afraid to create a recipe from my heard.
In my ebook, I give you my personal grocery lists and the types of meals I create from it.
Last but on least and along the lines of the last question. What top 10 things would you recommend stocking the pantry with?
I think that must be a personal choice to some extent.
I'd say to keep
Chicken, fish, ground beef in the freezer
Hillbilly Housewife's Homemade Biscuit Mix (I love this stuff! and you can do a ton of stuff with it)
Your Favorite Canned fruits
Your Favorite Canned Veggies
Canned milk (evaporated & coconut)
Canned tomatoes – you can do so many things with a tomato base
Potatoes
Onions
Dried Beans
Pasta
Grains like quinoa & oats
Thanks so much for a wonderful Interview Tracy and of course for the recipe as well. I'm looking forward to trying it tonight.
Don't forget to check out Tracy's new Kindle book: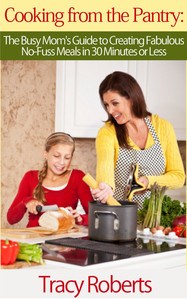 As a busy mom, you know that sometimes dinner time rolls around and you have no clue how to answer, "What's for dinner?".
Tracy Roberts knows how that goes but she's figured out a way to make delicious meals, in 30 minutes or less, that her family enjoys so much that they ask for more. She shares her strategy in her Kindle ebook, Cooking from the Pantry: The Busy Mom's Guide to Creating Fabulous, No-Fuss Meals in 30 Minutes or Less.
Included inside are Tracy's basic grocery list, a list of meals she creates from it and a few of her family's favorite recipes. Click here to get your copy today www.hillbillyhousewife.com/pantrycookbook
Disclosure: Some of the links below are affilate links, meaning, at no additional cost to you, I will earn a commission if you click through and make a purchase.