Pancakes
1 cup milk
1 medium egg
1 tablespoon oil
2 tablespoons sugar
1/2 teaspoon salt
1 1/2 teaspoons baking powder
1 1/2 cups flour
Get out a medium sized bowl. Measure in the milk, egg, oil and sugar. Beat well with a fork or wire whisk. Add the salt, baking powder and flour. Beat again, mixing until the batter is smooth.
Cook on a hot, well oiled griddle or skillet. I use about 1/4 cup of batter per pancake.
I heat up my iron skillet over medium-high heat, and melt a spoonful of margarine or bacon grease in it. When the fat is almost smoking, I drop in about 1/4 cup of batter. Sometimes I cook two at a time, in the same pan.
The pancake will settle down and cook. As it cooks, little bubbles will form around the edges of the pancake. The top will begin to dry out a little too. When the top is beginning to dry out, and the surface has plenty of bubbles on it, turn the pancake and cook the other side. Brown it well, and lay it in a plate. Repeat until all of the batter is used up.
I usually cook double this recipe on Saturday mornings. My crew has a big appetite. The recipe as it is written will serve 4 people with average appetites. Doubled, it will serve 6 starving teenagers.
Serve with margarine, Pancake Syrup and fresh or canned fruit and milk.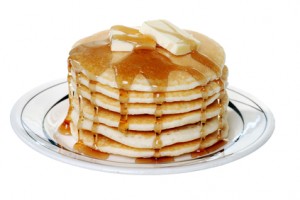 Disclosure: Some of the links below are affilate links, meaning, at no additional cost to you, I will earn a commission if you click through and make a purchase.